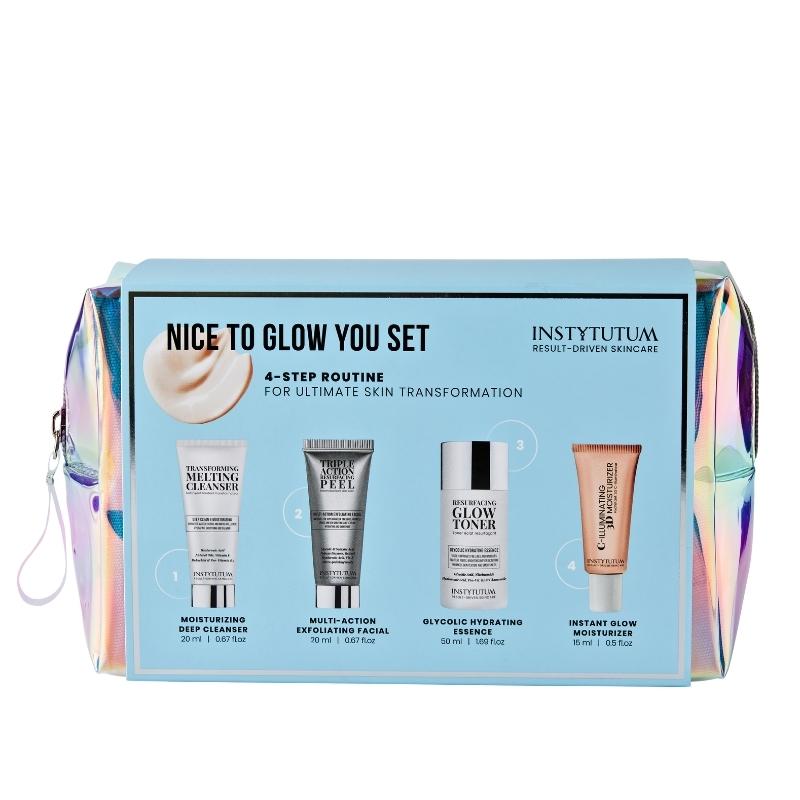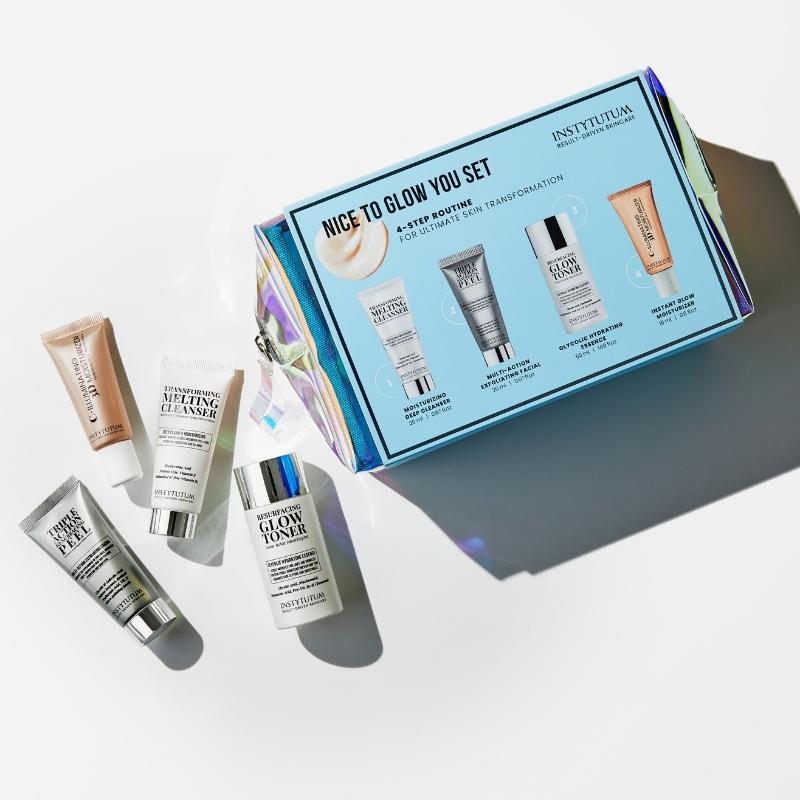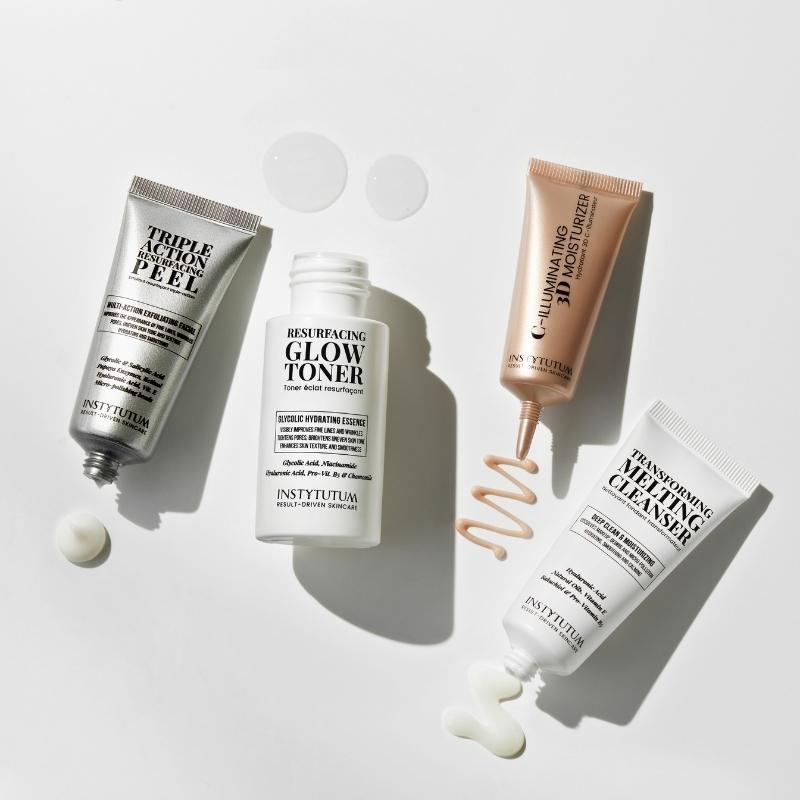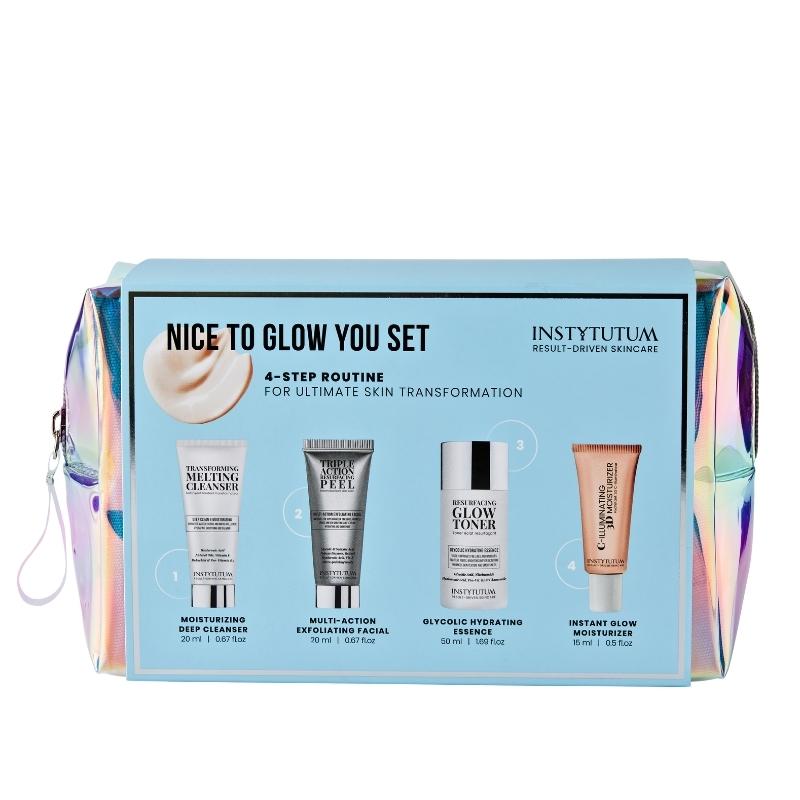 Skinsational Mini Collection
NICE

TO GLOW YOU SET
WHY YOU WILL LOVE THIS
These 4 luxury travel-size bestsellers provide fast results and address all your skin concerns at once. Also perfect as a starter kit on your way to flawless skin, or as the perfect gift for all result-driven skincare fans.

The Flawless Glow Kit, perfect for the jet setter or those on the go.

HOW TO USE
Transforming Melting Cleanser Apply evenly to dry skin, do not moisten skin beforehand and massage in. Moisten the skin to transform the balm into a silky emulsion. Rinse off thoroughly with lukewarm water follow with Resurfacing Glow Toner or Flawless Pads. For optimum results use with Micro Peeling Cloth.
Resurfacing Glow Toner Use after cleansing or after a peel. Pour onto a cotton pad or on your hands and apply to the face, neck and décolleté. Leave on to take effect, then apply your regular moisturizer.
Triple-Action Resurfacing Peel Apply an even layer to the face, neck and décolleté, avoiding the eye area, massaging in circular motions for 1-3 minutes. Leave on for 5-8 minutes for best results. Rinse thoroughly with lukewarm water. For sensitive skin, use as a mask without polishing, leave on for 3-5 minutes. For best results use this peel 1-2 times a week, followed by your Serum and Cream.
C-Illuminating 3D Moisturizer Apply evenly to a perfectly clean face and instantly look radiant, or as a perfect makeup base for that extra glow.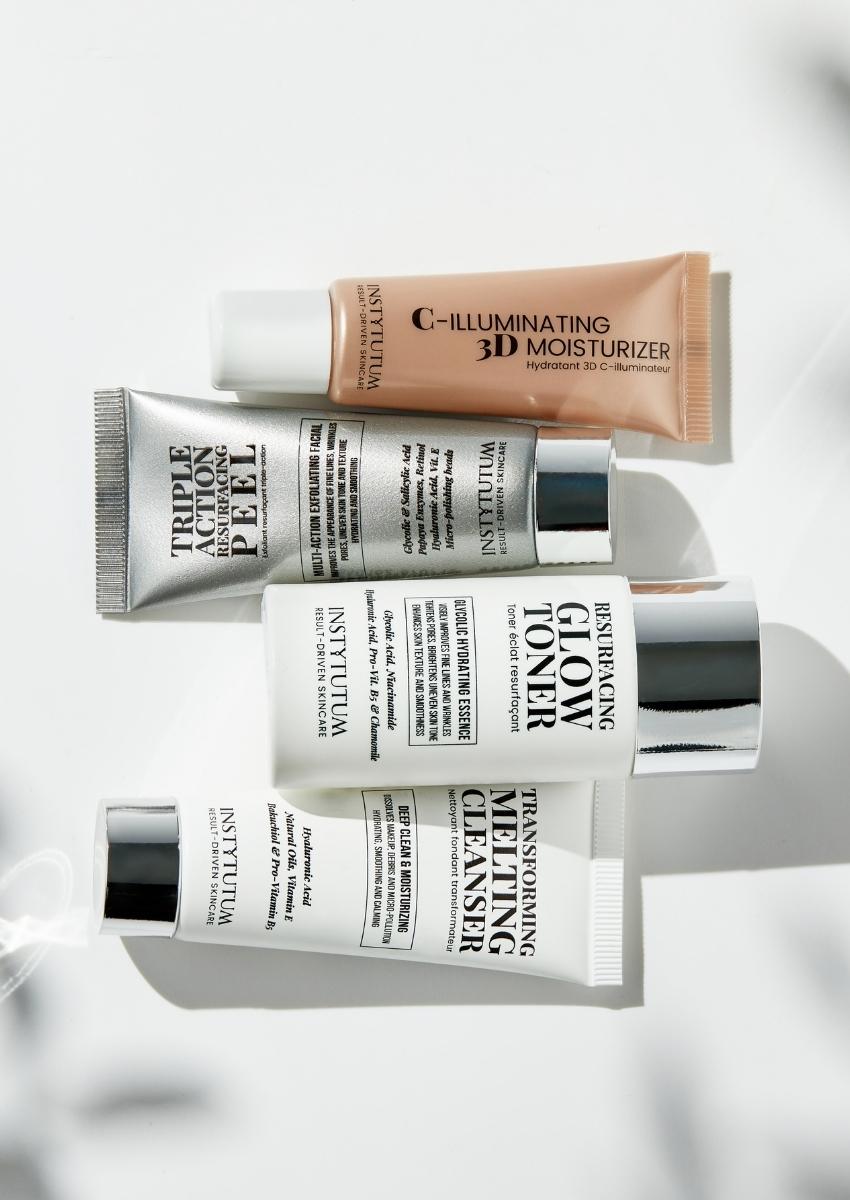 SKINSATIONAL MINI COLLECTION

Transforming Melting Cleanser A truly unique transforming cleanser that leaves the skin beautifully cleansed, hydrated and supple. Visibly replenishing and smoothing while renewing the complexion at the same time. The powerful melting formula offers an unparalleled sensorial experience. The skin feels soft, hydrated, and radiant looking.


Resurfacing Glow Toner The last step of cleansing and at the same time the deeply hydrating essence. Provides a perfect base for your next steps. A true essential due to the many benefits it provides. The skin is not only refined but already deeply hydrated, plump and calm. With a perfect pH level of 3,5 to ensure real efficacy.


Triple-Action Resurfacing Peel A truly transforming triple-action exfoliating facial contains a 10% acid duo, papaya enzymes and loads of ultrafine micro-polishing beads for an in-office microdermabrasion treatment effect. Complexion perfection guaranteed.


C-Illuminating 3D Moisturizer For an amazing immediate illuminating glow and a supple, plump, healthy and intensely hydrated radiant skin. This super-charged anti-aging formula is a real multi-tasker and has too many benefits to count. The innovative texture will blur, enhance and reflect your complexion.

There are no reviews for this product.
FOR SKINSATIONAL RESULTS
USE TOGETHER WITH