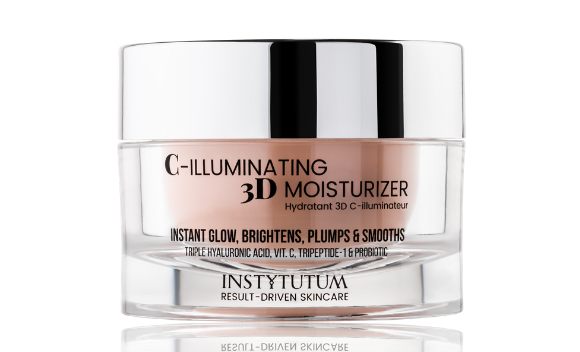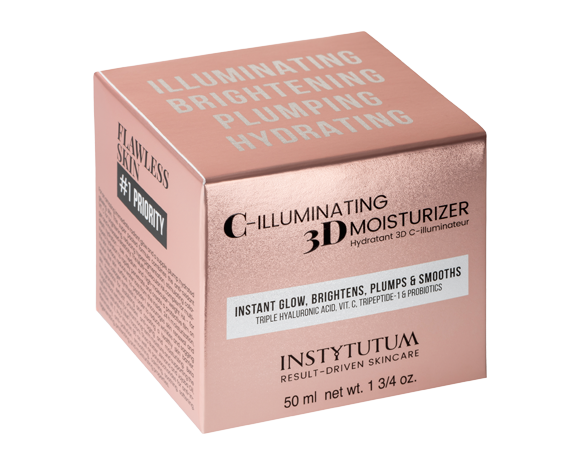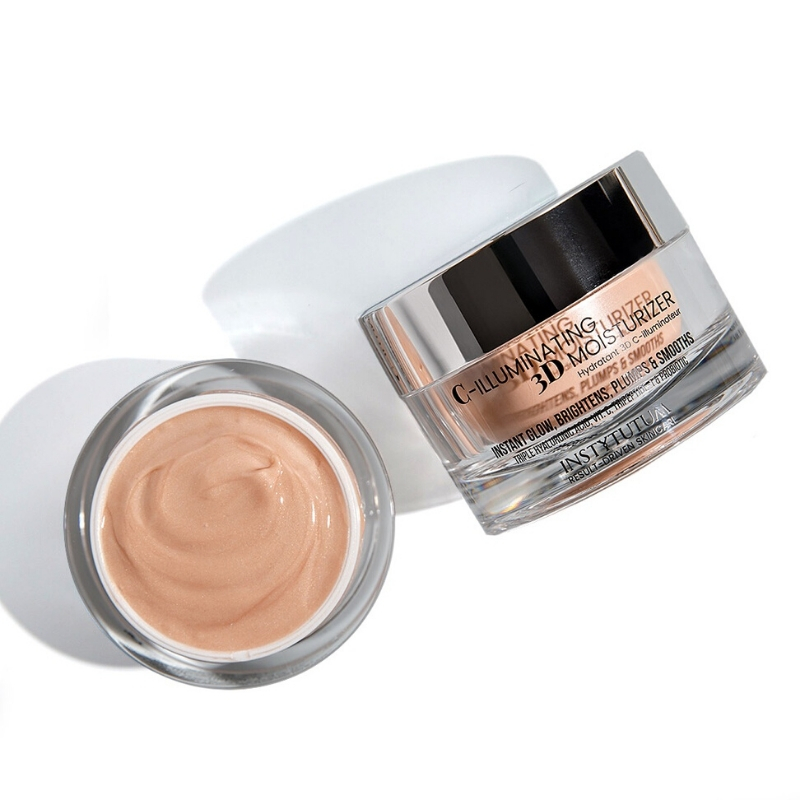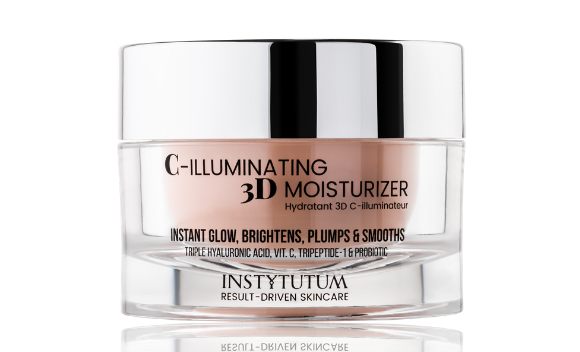 INSTANT GLOW, BRIGHTENING AND MULTI-DEPTH REHYDRATION
C-ILLUMINATING

3D MOISTURIZER
WHY YOU WILL LOVE THIS
For an amazing immediate illuminating glow and a supple, plump, healthy and intensely hydrated radiant skin. This super-charged anti-aging formula is a real multi-tasker and has too many benefits to count. The innovative texture will blur, enhance and reflect your complexion.

Use alone for a natural luminous finish, or enhance your makeup with a pearlescent glow.

HOW TO USE
Apply evenly to a perfectly clean face and instantly look radiant, or as a perfect makeup base for that extra glow.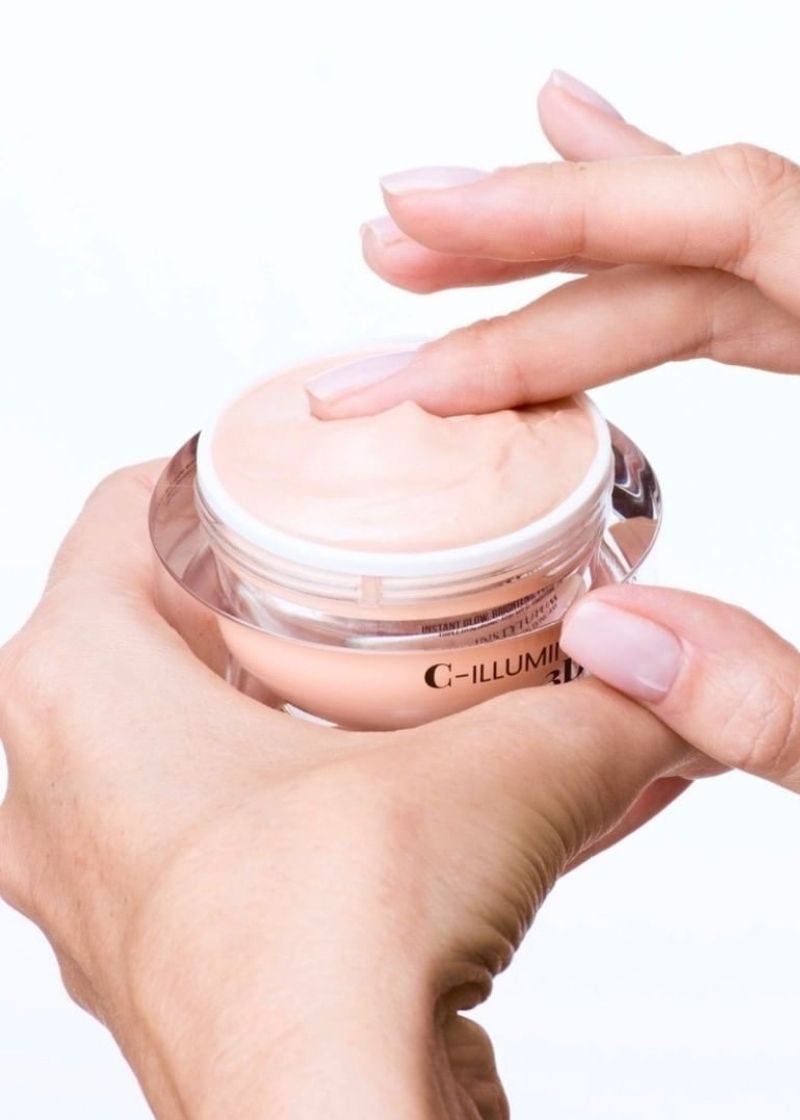 INSTANT GLOW, BRIGHTENING AND MULTI-DEPTH HYDRATION

For an amazing immediate radiant glow and a supple, plump, healthy and intensely hydrated glowing skin. This super packed Anti-Aging formula combines Vitamin C for brightening, reducing hyperpigmentation stimulating collagen and increased elasticity. The Multi-molecular HA complex for multi-depth hydration, low, medium and high-molecular-weight HA for superb hydration to rapidly penetrate and create a protective film on the skin surface, reduce water loss from the inside, 24 h moisturization, nourish the skin surface, repairs and restores from the inside and provides anti-pollution/anti-UV benefits. Tri-Peptide-1 encourages skin renewal and stimulates collagen synthesis in order to reduce wrinkles and sagging skin. Probiotics for stabilizing and creating a healthy skin barrier. Pomegranate extract provides anti-aging and moisturizing. Beet Root Extract for instant long-term moisture and supporting the natural moisturizing (NMF) factors. Shea Butter, Almond and Jojoba Oil, Allantoin, Vitamin E, B5 as well as polysaccharides for anti-inflammatory, smoothing, calming, soothing, softening, repairing, protecting and moisturizing properties.

I love that cream. beautiful texture, beautiful brightening skin, very pleasant

My dear team of INSTYTUTUM❤ i love this cream a looot! my skin love him so much! and i m happy u help me to start to be your happy client! Thank you

An exceptional moisturizer - makes my skin glow and feel wonderfully hydrated. The perfect addition to my skincare regime.

This one for sure became my most favorite moisturizer for the day or going out at night. The magical glow it adds to the skin and it plumps up to perfection.

This is a very nice moisturizer! It's thicker than I expected, making it too heavy for summer days, however I think it would be better for the winter months when my skin needs more hydration! It leaves my skin with such a beautiful glow. I've found this to be really great for no makeup days

This cream is like putting a ray of sunshine on your face, and getting an instant glow. I combine it with the serum, and my face feels so clean, the skin feels tighter and it looks like I have a natural glow. I love your products! Thank you!

Ich hatte diese Creme kürzlich als Probe und musste sie daraufhin jetzt bestellen. Toller Glow und eine ganz wunderbare Pflege. Schade, dass sie im Tiegel daherkommt, daher nur 4 Sterne, obwohl ich für den Inhalt 10* geben würde

Tolle Tagespflege mit wunderbarem Glow. Nicht zu reichhaltig sonder genau richtig dosiert. Lässt einen sofort frisch und erholt ausssehen.
FOR SKINSATIONAL RESULTS
USE TOGETHER WITH