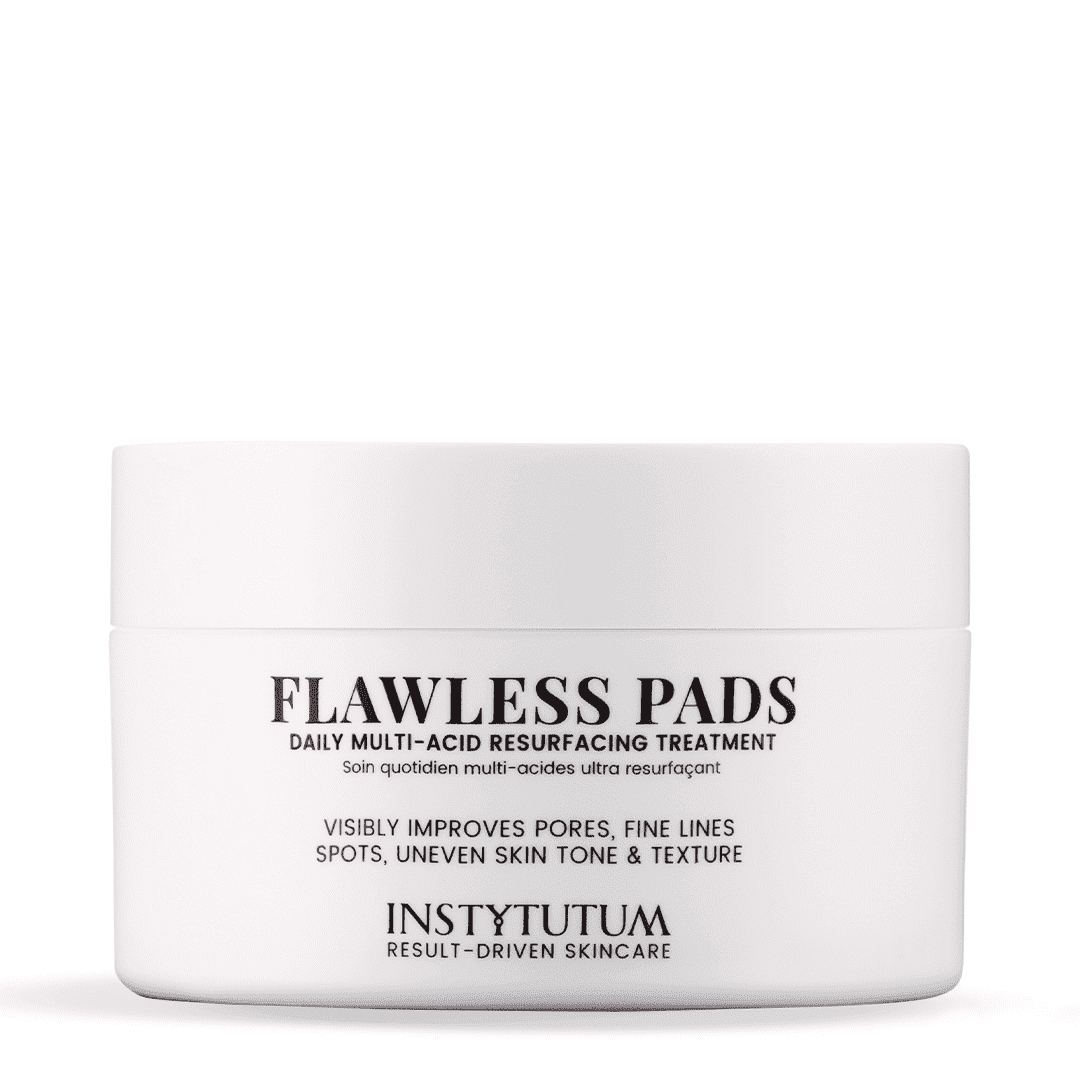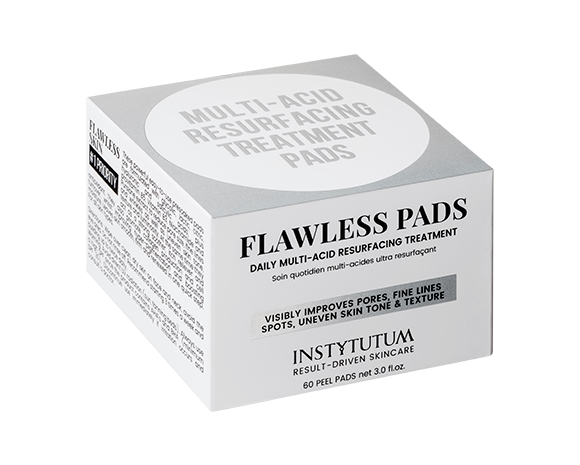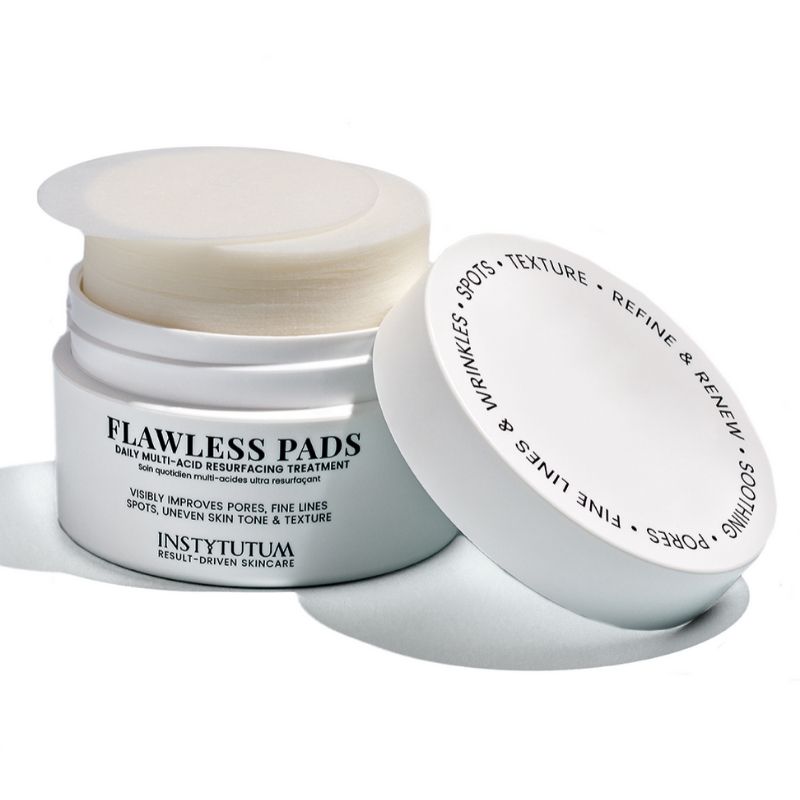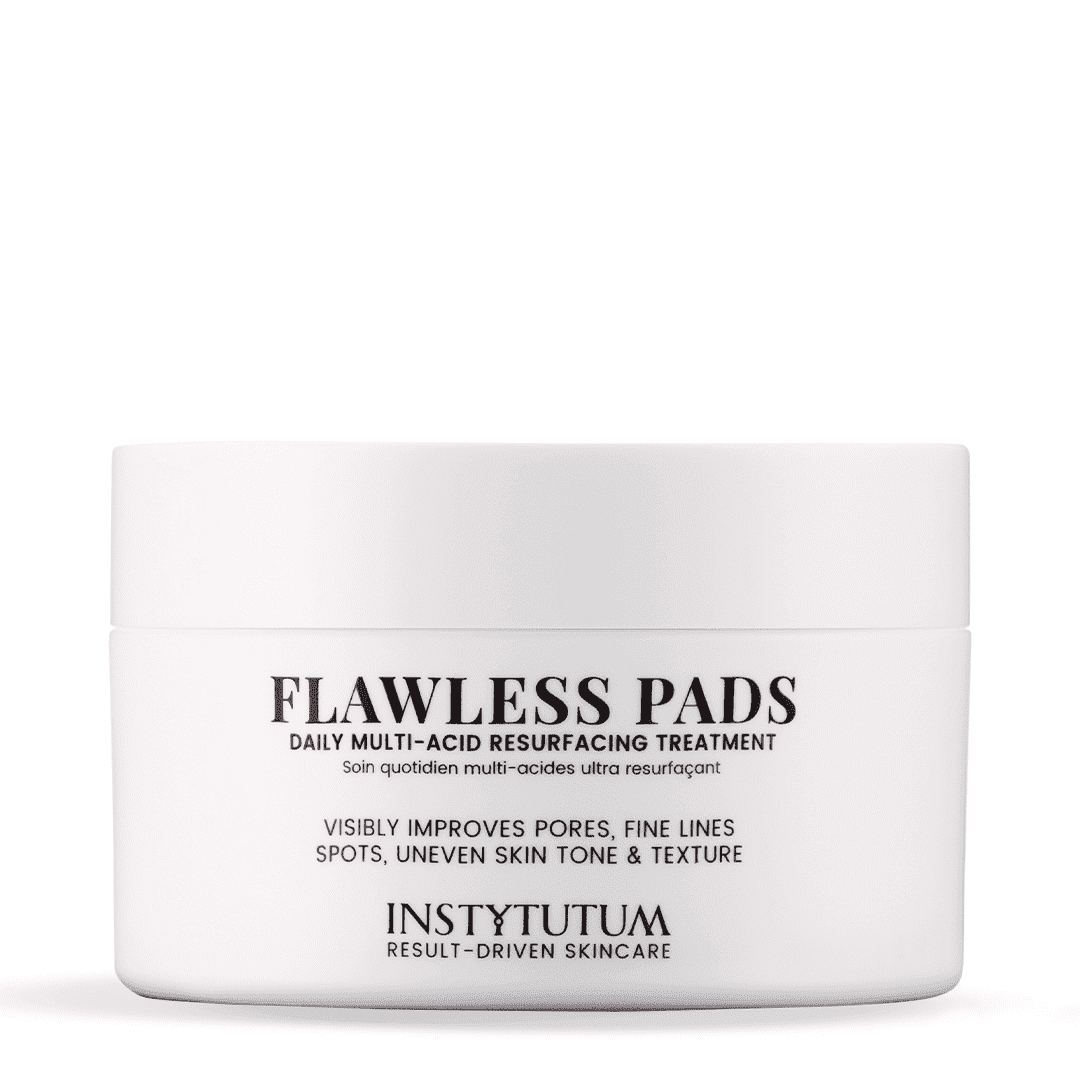 DAILY POWER MULTI-ACID RESURFACING TREATMENT
PEELING

FLAWLESS PADS
WHY YOU WILL LOVE THIS
One step miracle pads that deliver results. A must have to resurface and retexturize the skin surface. The benefits of the powerful non-irritating acid cocktail are numerous: luminosity is restored, pore size reduced, spots, hyperpigmentation, and sun damage corrected, fine lines reduced while rebuilding collagen to improve elasticity.

Boosts moisture, calms and soothes the skin. Ideal for traveling. Use a high spf.

HOW TO USE
Wipe over clean, dry skin on face and neck, avoid the eye area. Leave on. Recommend starting 3 times a week and building up to twice daily.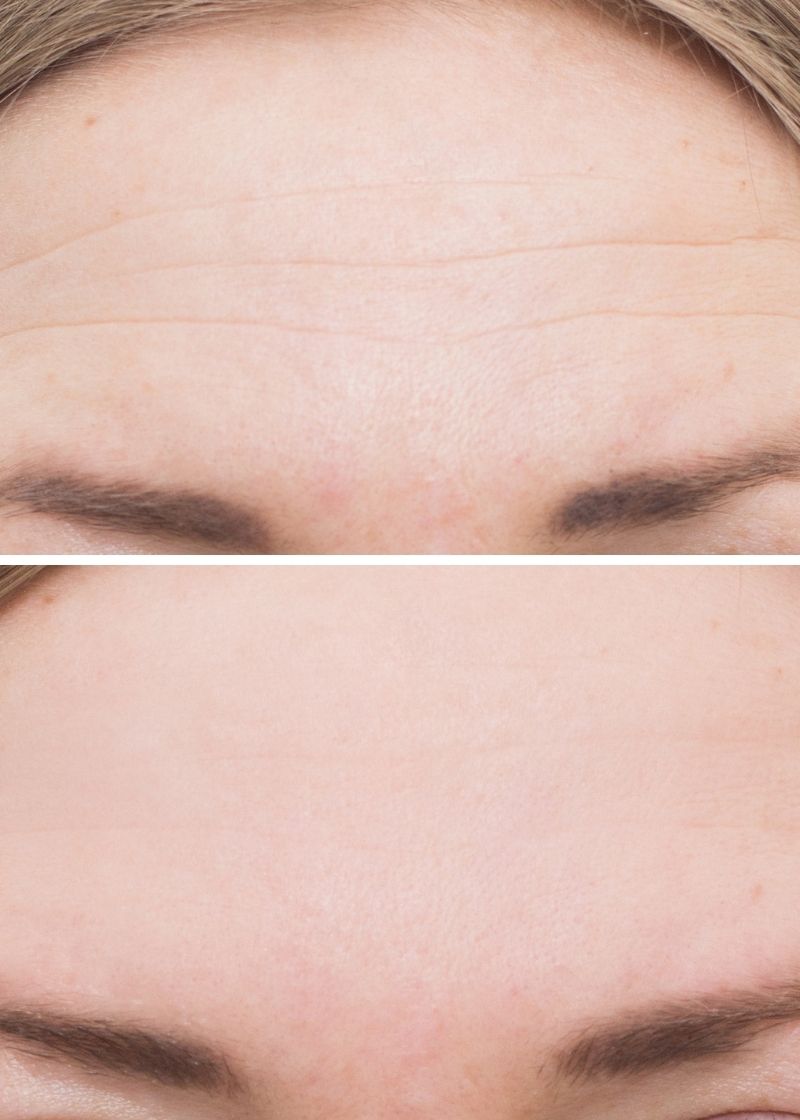 DAILY POWER MULTI-ACID RESURFACING TREATMENT

These powerful easy-to-use pre-soaked pads are formulated with glycolic, lactic, citric, hyaluronic and salicylic acids, plus Pro-Vitamin B5 and Niacinamide that reduce pore size, fine lines, and wrinkles and improve skin tone, texture and luminosity. Purslane Extract acts as a strong soother, itch reliever and antioxidant. They also promote collagen production and cell turnover, whilst improving hyperpigmentation and boosting moisture. Leaves skin smooth, firm and renewed in one quick step.

ACTIVE INREDIENTS:

GLYCOLIC ACID, NIACINAMIDE, LACTIC ACID, CITRIC ACID, SALICYLIC ACID, PROVITAMIN B5, HYALURONIC ACID, PURSLANE EXTRACT.

FULL INGREDIENT LIST:

AQUA (WATER), BUTYLENE GLYCOL, GLYCOLIC ACID, NIACINAMIDE, LACTIC ACID, SODIUM HYDROXIDE, PHENOXYETHANOL, SACCHARIDE ISOMERATE, CITRIC ACID, SALICYLIC ACID, GLYCERIN, PANTHENOL, ETHYLHEXYLGLYCERIN, HYDROXYETHYLCELLULOSE, PPG- 26-BUTETH-26, PEG-40 HYDROGENATED CASTOR OIL, PARFUM (FRAGRANCE), SODIUM HYALURONATE, SODIUM CITRATE, PORTULACA OLERACEA EXTRACT.

These pads are incredible. They are correcting my skin problem of congested pores deep within my skin. Also, literally erasing the lines on my forehead. I always will purchase these. Discovered them on The View!

This is a must have product. My acne prone, sensitive skin has never been better.

Love these! My face looks so much better and younger when I use

Can't live without these pads

I have used toner for many years. Flawless Pads will replace that toner. After using a pad my skin feels clean and refreshed and looks healthy. So happy I discovered the pads!

I have been using this product for 3 1/2 months - along with other instytutum products. my face seems smoother and healthier

This product is amazing! It has changed my skin dramatically. No more dry or red spots! Used with the Retinoil, my skin has never felt so hydrated! Love! Love! Love!

Maryna Sobkevych (37 years, combination skin)

This is a product that has dramatically changed my skin! I buy for the second time in a row and will buy it till the end of my life! Skin is pure, hydrated. I use it daily in the evening.

I realy love these pads! They are gentle, but I use them 3x a week. My face looks gloomy afterwards! I can tell they are evening out my complexion!! I will buy again for sure.

This is a miracle product. It is quite intense, but leaves my skin transformed. It effectively reduces fine lines and evensout my skin tone. Love this product!!

These are fascinating and have become my favorite skin care item. I am an experienced acid user, done 30% salycic acid peels at dermatologists' and all that stuff. However, at home I would use a 2% salycic and 8% AHA gel type of products. My skin is combination to oily and I get some bumps on my forehead that none of these gels would manage to beat. Now after using these pads for 5 days, they were gone. My skin is brightened, smooth, soft and amazing. Cannot stop looking at it. Now I am using the pads 3 days a week or so, depending on the need. The acids are really potent and exfoliate very well. Good acids also have the tendency to sort of stretch the skin (for want of a better word), so it feels smoother, younger, more even. A 5 star product, highly recommend.

Absolutely love these pads! They're mild and don't dry out my skin, yet are super effective with evening my skin tone and brightening my complexion. Highly recommend!

These pads are the secret ingredient that has transformed my skin. After going off birth control, I had terrible hormonal acne. The only thing that helped was going off dairy. But once I tried Instytutum and these pads especially, my acne has virtually disappeared. And I have been able to eat more dairy again. The pads have also made my skin so much smoother. It feels like baby skin. I'm so happy I tried this. And now it's an integral part of my skincare regime.

Ich habe die Pads getestet und was soll ich sagen, sie sind mega! Habe eine klarere Haut bekommen. Habe danach den Glow Toner benutzt..tolle Haut war das Ergebnis. Definitiv Nachkaufempfehlung

Hi I am 58 and used a lot of different high end products but these flawless pads I have totally fell in love with. I use one at night and I have to tell you they work amazing, and no they do not dry out your face you wake up looking refreshed. Thank you Instytutum!

I'm verrrry happy I have bought these pads! They make my skin instantly glow and I can see resurfacing results after two weeks of using them. They have a steep price but worth every penny! 10/10 would recommend.

I love the effective ingredients as they really make a difference to my skin. I use these pads 3 times a week and combine with the serum and eye cream. I think my skin is softer and clearer. I am really happy.

These pads are so convenient and easy to use. My skin has been looking clear and glowy with less breakouts since I started using these. No irritation and moisturizing which makes my routine shorter.

Ann-Marie Cato / Face to Curls

These pad are really amazing stuff. I personally love the ease of peel pads to improve the texture of my skin. These pads are packed with all the good acids to exfoliate the skin: glycolic, lactic, citric, and salicylic acid. They are balanced with moisture-promoting hyaluronic acid and Vitamin B3. The pads are gentle and effective and when I wake up the next morning, my skin is soft and bright, and skin texture improved. Plus I have no irritation or drying whatsoever from these pads.

Love these pads as a part of my nightly routine! I have definitely seen an improvement in my skin, my acne scars are fading and my skin is more even-toned!
FOR SKINSATIONAL RESULTS
USE TOGETHER WITH