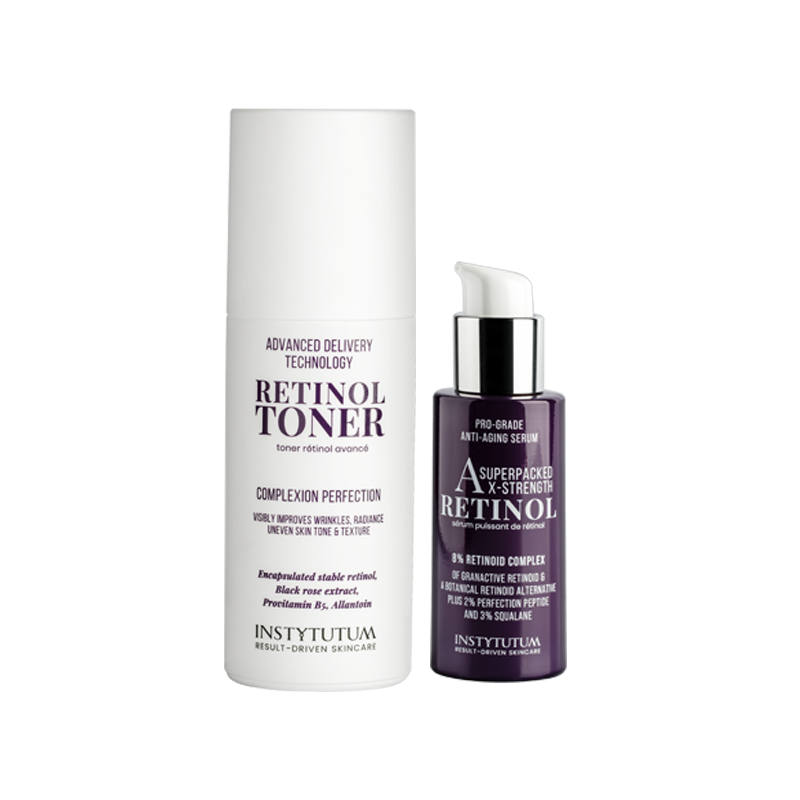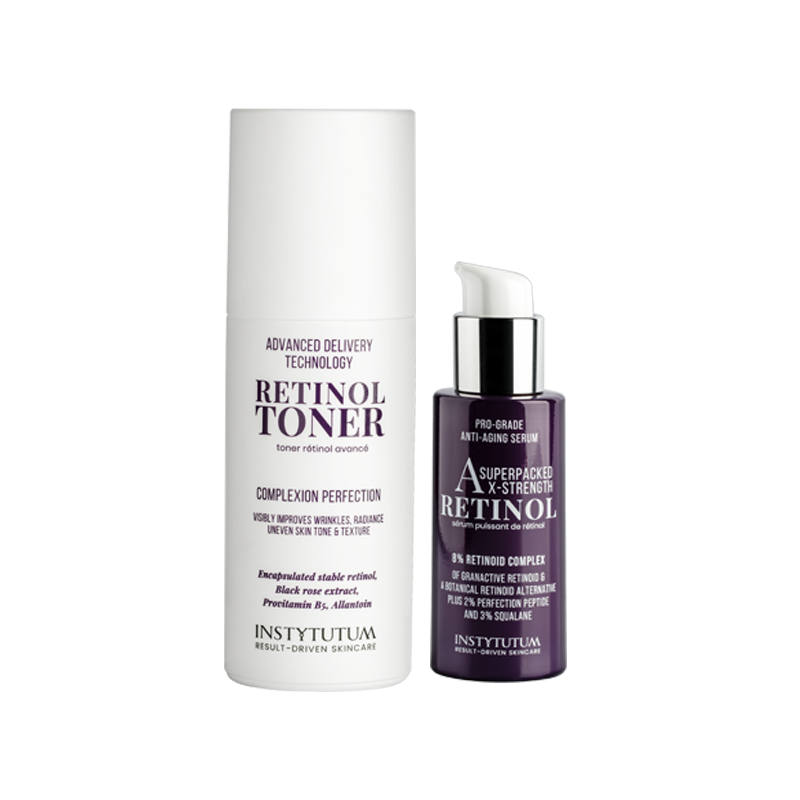 Advanced retinoid complex
Retinol

Love Duo
WHY YOU WILL LOVE THIS
Advanced Retinol Toner The last step of your cleansing routine, and at the same time the first infusion of encapsulated stabilized retinol, moisture and black rose extract before applying your serum and moisturizer. Retinol Toner prepares your skin for the next step and enhances the power of serum.

X-strength Retinol Serum Continue layering active ingredients and enjoy the results of this powerful Retinoid complex without the common side effects. Dermatologically tested, it shows little to none irritation to the skin.
HOW TO USE
Advanced Retinol Toner Use after cleansing. Pour onto a cotton pad or on your hands and apply to the face, neck and décolleté. Leave on to take effect, then apply X-strength Retinol Serum.
X-strength Retinol Serum New to Retinol? Gradually work your way up to every other night, then to daily evening use. For advanced Retinol users: use every night or rotate with our RetinOil. Finish with Hydrafusion or Flawless Cream.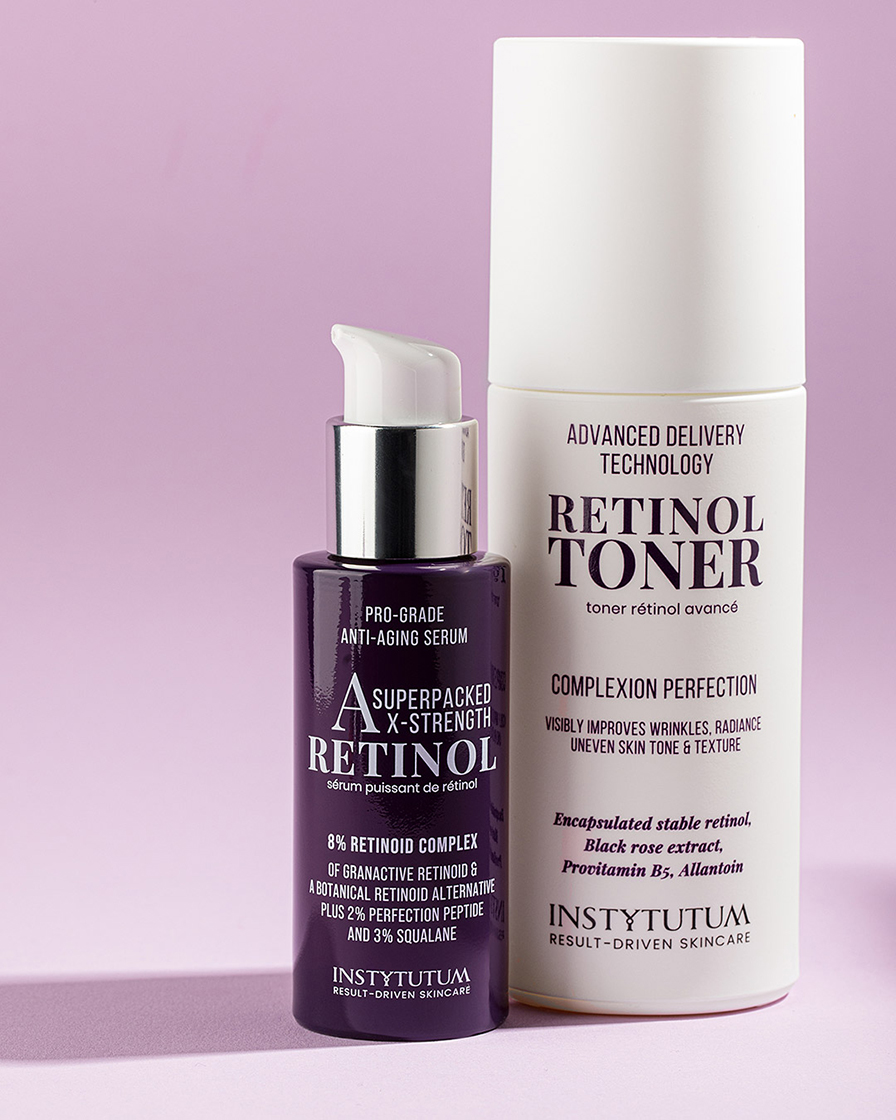 Stronger together

Advanced Retinol Toner Toner, with an advanced delivery technology, that delivers ultra-stabilized Retinol into the skin, enhancing the epidermal bioavailability of Retinol to skin cells. Retinol counteracts skin aging and improves UV damage, visibly reducing lines, wrinkles, and spots, while stimulating cell renewal and collagen production. Provitamin B5 and Allantoin hydrate, deeply moisturize, calm irritation, reduce redness and inflammation as well as soothe and soften the skin.


X-strength Retinol Serum A high-dose extra strength Retinol Serum to truly transform the skin. Superpacked with an 8% Retinoid Complex that delivers a 5 % concentration of Granactive Retinoid, a solubilized system of Hydroxipinacolone Retinoate, a highly advanced stabilized Retinol ester of all-trans-retinoic acid. It ensures a better active delivery and fights multiple signs of aging with low irritation.

And a 3% blue-green Algae, a natural retinoid-like micro-algae extract, plus 2% rejuvenating perfection Peptide P3 that reactivate the natural peeling (desquamation) process of the skin. Smoothing the micro-relief of the skin and significantly reduce the depth and number of wrinkles, while intensely moisturizing and regenerating.

The performance of this serum intensifies with 3% plant-derived Squalane that locks in moisture, supporting the skin's natural moisture barrier, giving the skin a soft and smoother appearance, Multi Molecular Hyaluronic acid that can penetrate the dermis, to drench collagen and elastin fibers, instantly plumps and provides long-lasting multi-level rehydration. Vitamin E, Apricot, Grapeseed Oil, Allantoin, and Provitamin B5 provide regenerating, antioxidant, soothing, repairing, and anti-inflammatory activity.

There are no reviews for this product.