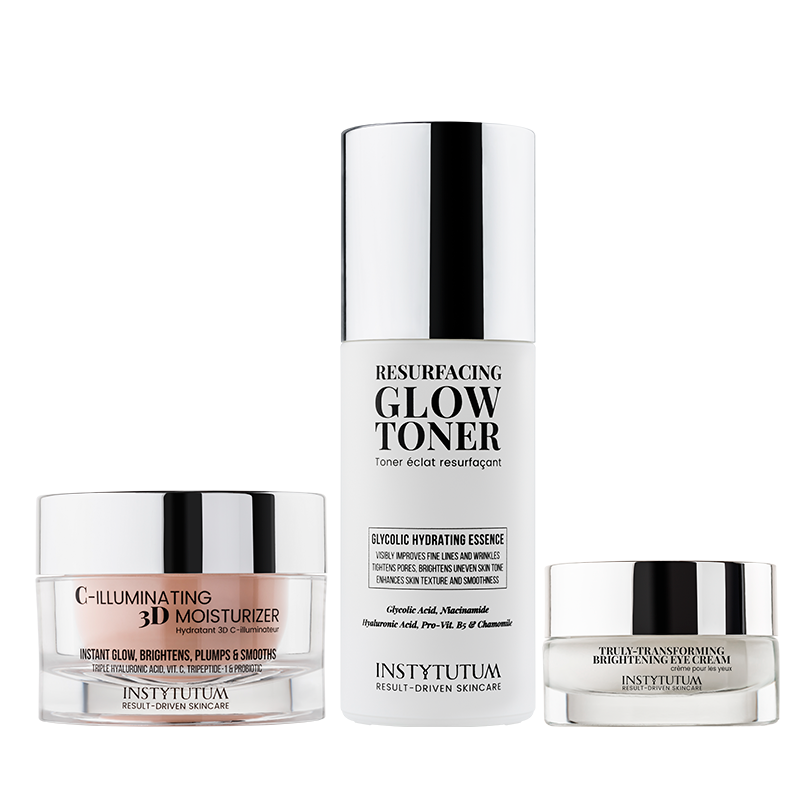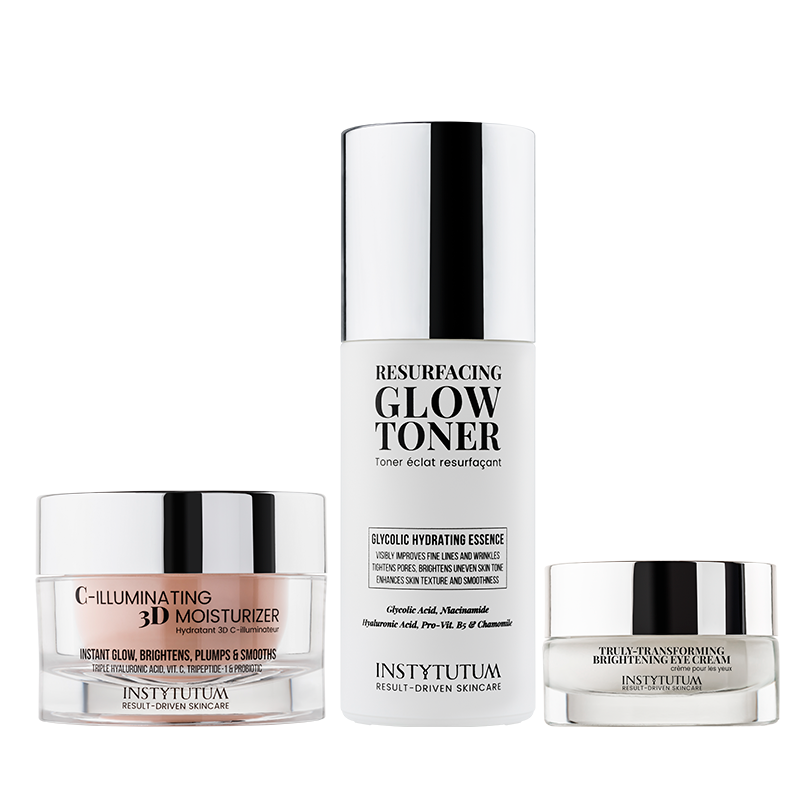 WHY YOU WILL LOVE THIS
Resurfacing Glow Toner The last step of cleansing and at the same time a deeply hydrating essence. Provides a perfect base for your next steps. A true essential due to the many benefits it provides. The skin is not only refined but already deeply hydrated, plump, and calm. With a perfect pH level of 3,5 to ensure real efficacy.
C-Illuminating Moisturizer For an amazing immediate illuminating glow and a supple, plump, healthy and intensely hydrated radiant skin. This super-charged anti-aging formula is a real multi-tasker and has too many benefits to count. The innovative texture will blur, enhance and reflect your complexion.
Truly-Transforming Brightening Eye Cream This powerful rich moisturizing eye cream is designed to meet all your needs at once. Super replenishing, gentle but strong enough to improve even stubborn signs of aging. The concentrated supercharged formula instantly creates a smooth, lifted, and depuffed eye area and fights the five types of eye-area wrinkles.
HOW TO USE
Resurfacing Glow Toner Use after cleansing or after a peel. Pour onto a cotton pad or on your hands and apply to the face, neck and décolleté. Leave on to take effect, then apply your regular moisturizer.
C-Illuminating Moisturizer Apply evenly to a perfectly clean face and instantly look radiant, or as a perfect makeup base for that extra glow.
Truly-Transforming Brightening Eye Cream Apply a thin layer twice daily, as the final step of your skincare regimen. Gently tap into the eye area and the upper-lid. ​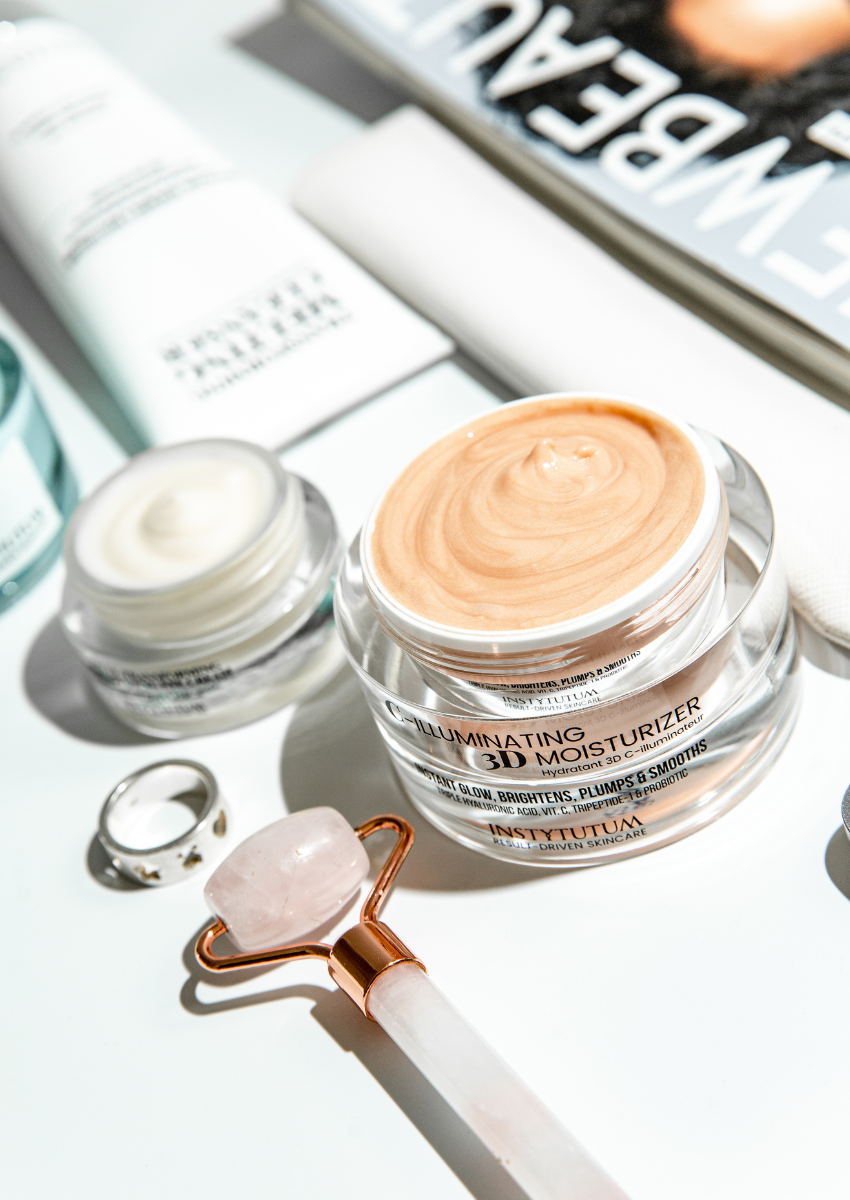 Glowing Skin is 3 Steps Away

Resurfacing Glow Toner The Resurfacing Glow Toner is formulated with 6% Glycolic Acid and 2% Niacinamide chemically exfoliates the skin's surface to visibly improve the look of fine lines, wrinkles, pores, uneven skin tone and helps to brighten, clarify and smooth the complexion. It also effectively reduces sebum production and impurities. Allantoin, Chamomile and Pro-Vitamin B5 help soothe and calm the skin while Hyaluronic Acid leaves the skin plump and hydrated.

C-Illuminating Moisturizer For an amazing immediate radiant glow and a supple, plump, healthy and intensely hydrated glowing skin. This super packed Anti-Aging formula combines Vitamin C for brightening, reducing hyperpigmentation stimulating collagen and increased elasticity. The Multi-molecular HA complex for multi-depth hydration, low, medium and high-molecular-weight HA for superb hydration to rapidly penetrate and create a protective film on the skin surface, reduce water loss from the inside, 24 h moisturization, nourish the skin surface, repairs and restores from the inside and provides anti-pollution/anti-UV benefits. Tri-Peptide-1 encourages skin renewal and stimulates collagen synthesis in order to reduce wrinkles and sagging skin. Probiotics for stabilizing and creating a healthy skin barrier. Pomegranate extract provides anti-aging and moisturizing. Beet Root Extract for instant long-term moisture and supporting the natural moisturizing (NMF) factors. Shea Butter, Almond and Jojoba Oil, Allantoin, Vitamin E, B5 as well as polysaccharides for anti-inflammatory, smoothing, calming, soothing, softening, repairing, protecting and moisturizing properties.


Truly-Transforming Brightening Eye Cream Extraordinarily hydrating, instantly unwrinkles, plumps and smooths due to the Multi-Molecular HA Complex and Raspberry Stem Cells for multi-depth hydration, 24h moisturization, it improves the production of ceramides and reinforces the skin barrier and elasticity. Energizing Caffeine detoxifies, thus reducing water retention and puffiness. Silk Tree Bark Extract and St. Pauls Wort visibly lift the upper eye-lid. In combination with Ash Bark Extract, Vitamin PP, Coffea Cell Extract as well as Tripeptide-5, Biopolymers, calming Bisabolol and Shea Butter to brighten, tighten and reduce fine lines and crow's feet. It improves micro-circulation and reinforces the capillary structure to minimize under eyebags and dark circles to reveal a refreshed lifted smooth youthful eye area.

There are no reviews for this product.