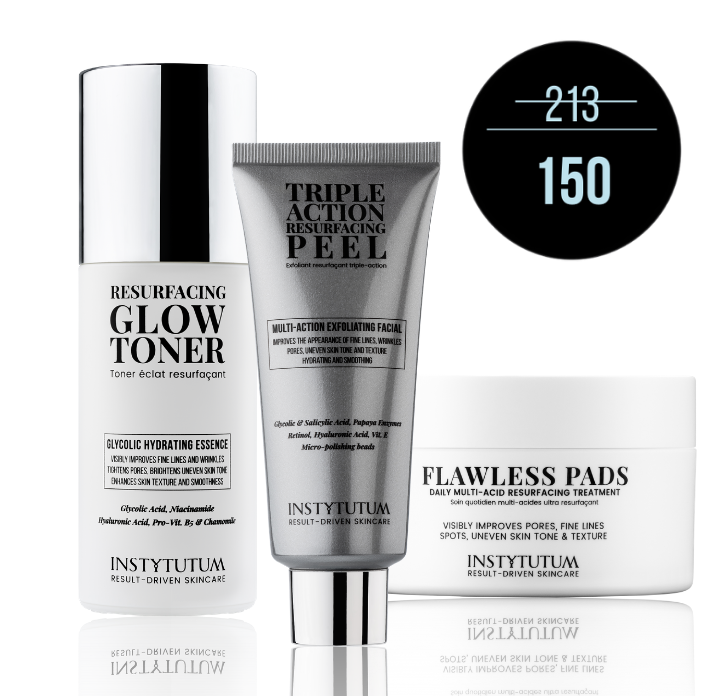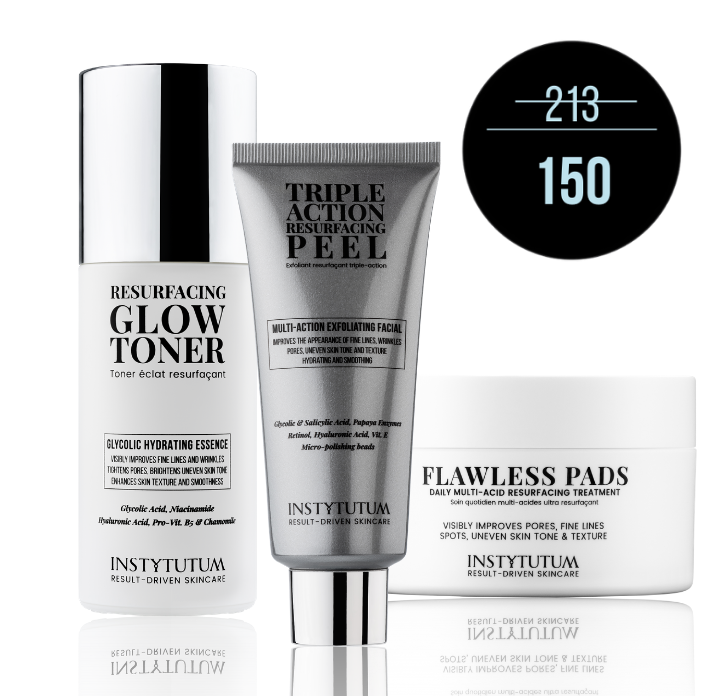 Flawless Skin in 1-2-3!
Pro-Grade

Resurfacing Essentials
WHY YOU WILL LOVE THIS
Resurfacing Glow Toner The last step of cleansing and at the same time the a deeply hydrating essence. Provides a perfect base for your next steps. A true essential due to the many benefits it provides. The skin is not only refined but already deeply hydrated, plump and calm. With a perfect pH level of 3,5 to ensure real efficacy.

Triple Action Resurfacing Peel A truly transforming triple-action exfoliating facial contains a 10% acid duo, papaya enzymes and loads of ultrafine micro-polishing beads for an in-office microdermabrasion treatment effect. Complexion perfection guaranteed.
Flawless Pads One step miracle pads that deliver results. A must have to resurface and retexturize the skin surface. The benefits of the powerful non-irritating acid cocktail are numerous: luminosity is restored, pore size reduced, spots, hyperpigmentation, and sun damage corrected, fine lines reduced while rebuilding collagen to improve elasticity.
HOW TO USE
Resurfacing Glow Toner Use after cleansing or after a peel. Pour onto a cotton pad or on your hands and apply to the face, neck and décolleté. Leave on to take effect, then apply your regular moisturizer.
Triple Action Resurfacing Peel Apply an even layer to the face, neck and décolleté, avoiding the eye area, massaging in circular motions for 1-3 minutes. Leave on for 5-8 minutes for best results. Rinse thoroughly with lukewarm water. For sensitive skin, use as a mask without polishing, leave on for 3-5 minutes. For best results use this peel 1-2 times a week, followed by your Serum and Cream.
Flawless Pads Wipe over clean, dry skin on face and neck, avoid the eye area. Leave on. Recommend starting 3 times a week and building up to twice daily.
Flawless Skin in 1-2-3!

Resurfacing Glow Toner The Resurfacing Glow Toner is formulated with 6% Glycolic Acid and 2% Niacinamide chemically exfoliates the skin's surface to visibly improve the look of fine lines, wrinkles, pores, uneven skin tone and helps to brighten, clarify and smooth the complexion. It also effectively reduces sebum production and impurities. Allantoin, Chamomile and Pro-Vitamin B5 help soothe and calm the skin while Hyaluronic Acid leaves the skin plump and hydrated.


Triple Action Resurfacing Peel A triple-action exfoliating facial to immediately transform the skin texture and tone. Contains a 10% Acid duo of Glycolic and Salicylic Acid, Papaya Enzyme and micro-polishing beads to resurface skin cells. Renewing Retinol, Hyaluronic Acid, Pro-Vitamin B5 and Vitamin E moisturize, soothe and regenerate the skin. Visibly reduces fine lines, wrinkles and pores, whilst improving the appearance of discoloration and dark spots for a brighter, smoother and renewed complexion.


Flawless Pads These powerful easy-to-use pre-soaked pads are formulated with glycolic, lactic, citric, hyaluronic and salicylic acids, plus Pro-Vitamin B5 and Niacinamide that reduce pore size, fine lines, and wrinkles and improve skin tone, texture and luminosity. Purslane Extract acts as a strong soother, itch reliever and antioxidant. They also promote collagen production and cell turnover, whilst improving hyperpigmentation and boosting moisture. Leaves skin smooth, firm and renewed in one quick step.

There are no reviews for this product.