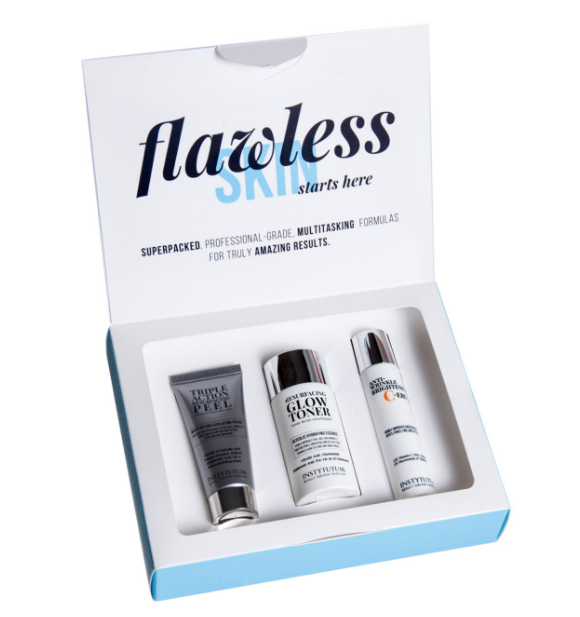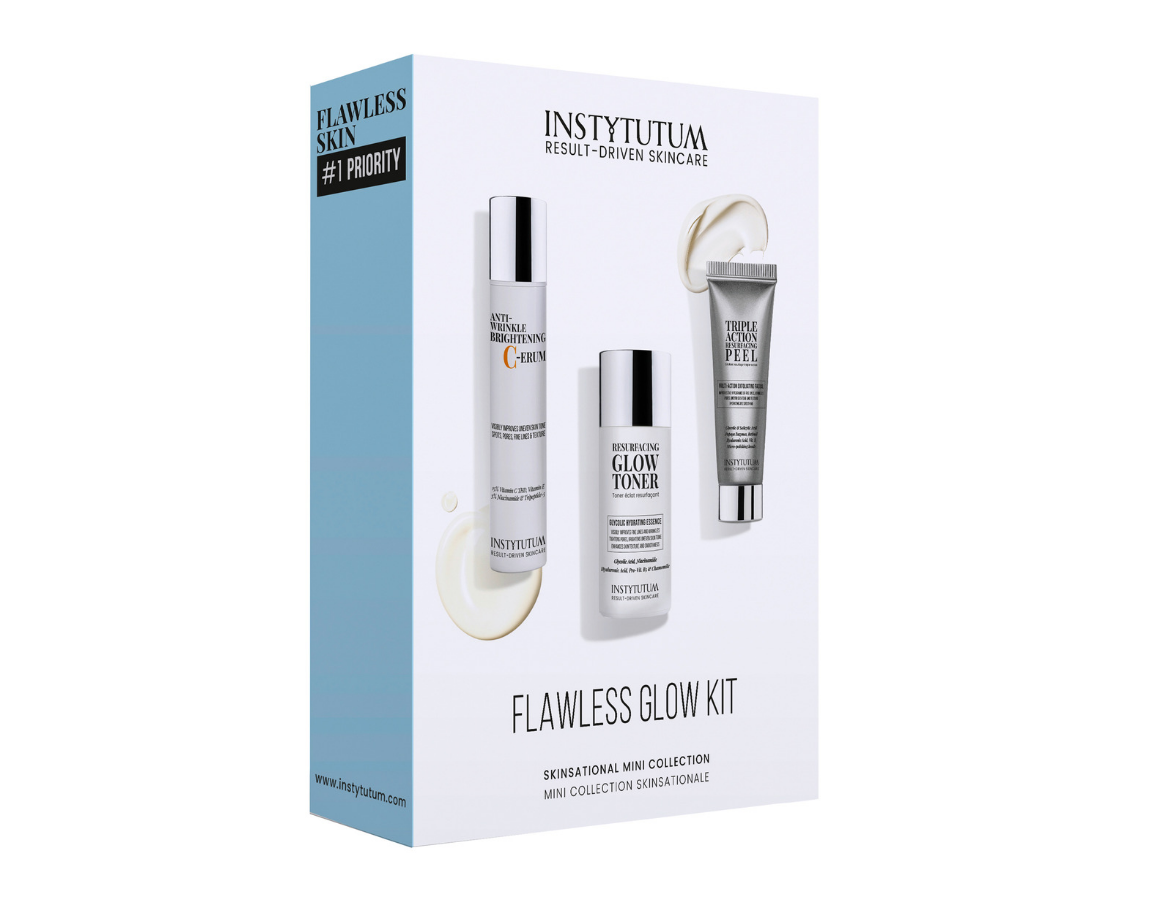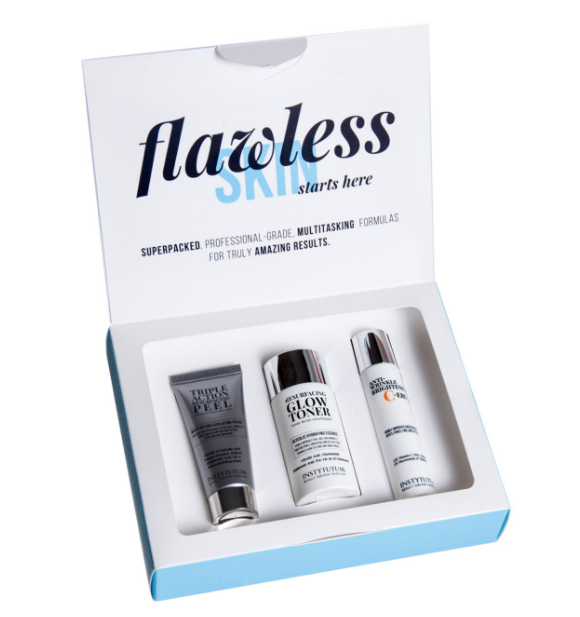 Skinsational Mini Collection
FLAWLESS

GLOW KIT
WHY YOU WILL LOVE THIS
These 3 luxury travel-size bestsellers provide fast results and address all your skin concerns at once. Also perfect as a starter kit on your way to flawless skin, or as the perfect gift for all result-driven skincare fans.

The Flawless Glow Kit, perfect for the jet setter or those on the go.

HOW TO USE
Triple-Action Resurfacing Peel Apply an even layer to the face, neck and décolleté, avoiding the eye area, massaging in circular motions for 1-3 minutes. Leave on for 5-8 minutes for best results. Rinse thoroughly with lukewarm water. For sensitive skin, use as a mask without polishing, leave on for 3-5 minutes. For best results use this peel 1-2 times a week, followed by your Serum and Cream.
Resurfacing Glow Toner Use after cleansing or after a peel. Pour onto a cotton pad or on your hands and apply to the face, neck and décolleté. Leave on to take effect, then apply your regular moisturizer.
Anti-Wrinkle Brightening C-Erum Apply morning and evening to the face, undereye, neck, and décolleté. For best results, follow with the Xceptional Flawless Cream or the C-Illuminating 3D Moisturizer.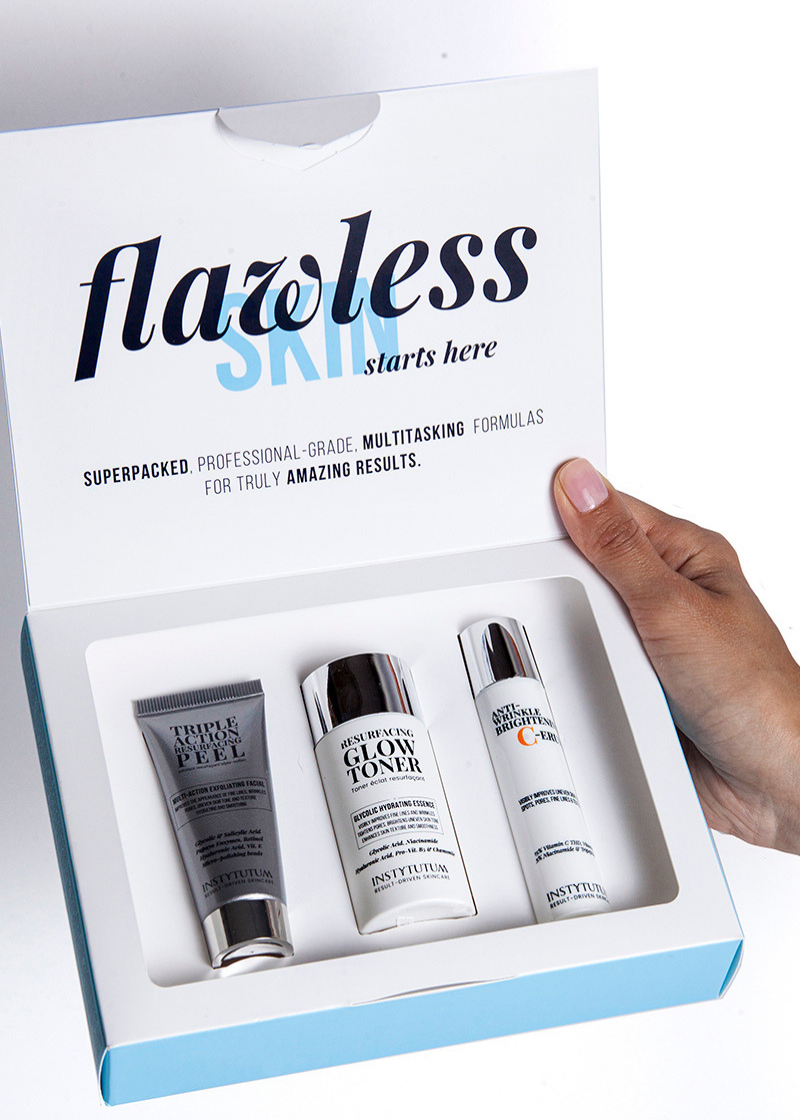 SKINSATIONAL MINI COLLECTION

Triple-Action Resurfacing Peel A truly transforming triple-action exfoliating facial contains a 10% acid duo, papaya enzymes and loads of ultrafine micro-polishing beads for an in-office microdermabrasion treatment effect. Complexion perfection guaranteed.


Resurfacing Glow Toner The last step of cleansing and at the same time the deeply hydrating essence. Provides a perfect base for your next steps. A true essential due to the many benefits it provides. The skin is not only refined but already deeply hydrated, plump and calm. With a perfect pH level of 3,5 to ensure real efficacy.


Anti-Wrinkle Brightening C-Erum More is definitely more. A highly potent, serum jam-packed with 15% Vitamin C (THD), infused with multiple exceptionally powerful ingredients for real results. Multi-beneficial to improve all major skin concerns at once. Instantly brightening and a dewy skin-smoothing glow.

I was so happy when I purchased this product. I started using it and by the second day I developed a itchy rash and tiny bumps on my forehead. I have eczema and rosacea. I guess this product is not for sensitive skin.

All I need when I travel! Love this KIT!

This kit was my first purchase from Instytutum. It's a great way to test out some of their great products. I really believe that I can see a difference in the texture of my skin, as well as a more even tone! I even have a bit of rosacea, and was concerned that I might develop some irritation on my cheeks, but that has not happened at all. In fact, my rosacea seems to be much less noticeable.

Sehnsüchtig habe ich solch ein Set erwartet.
Das Peeling ist ein Traum und in Kombination mit dem Serum hatte ich am nächsten Morgen eine ganz weiche und durchfeuchtete Haut. Den Glowtoner konnte ich aufgrund der momentanen Hitze noch nicht ausprobieren, das hole ich nach sobald es etwas kühler wird.
FOR SKINSATIONAL RESULTS
USE TOGETHER WITH