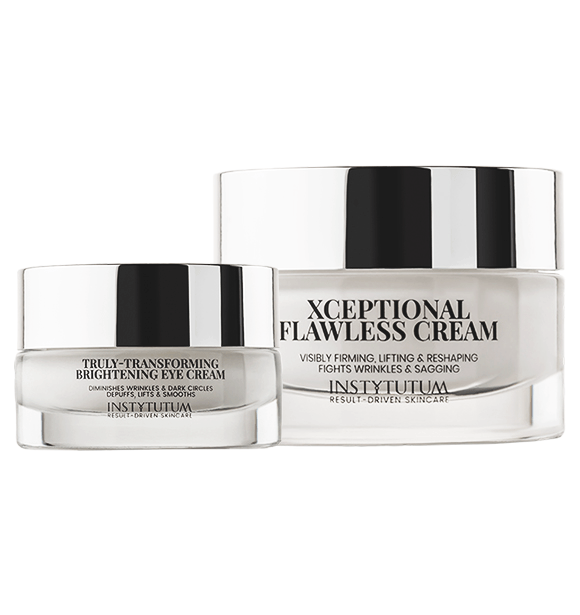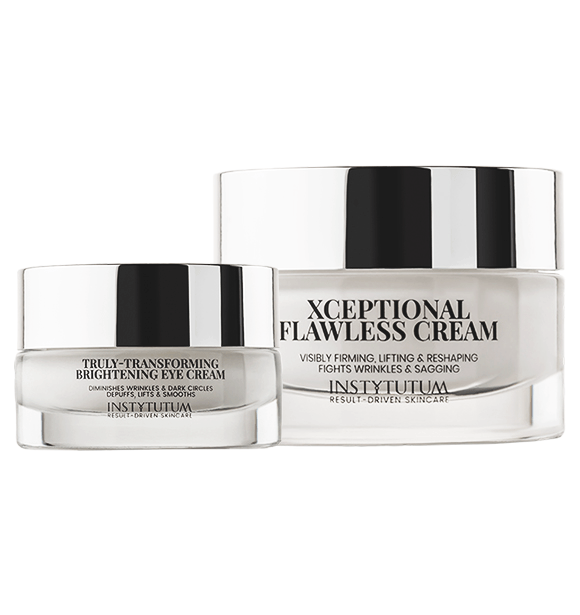 WHY YOU WILL LOVE THIS
Xceptional Flawless Cream melts luxuriously into the skin for a smooth, sensuous application and redefines the facial contours along the cheeks and jawline, for a V-shape effect. Supercharged with efficacious levels of groundbreaking ingredients to provide multiple anti-aging benefits.

Truly-Transforming Brightening Eye Cream is designed to meet all your needs at once. Super replenishing, gentle but strong enough to improve even stubborn signs of aging.
A REGENERATING SOOTHING ANTI-AGING CREAM, THAT FIGHTS FREE-RADICALS, ADVANCED GLYCATION, AND REVERSE VISIBLE SIGNS OF PHOTO-AGING.
SILK TREE BARK EXTRACT AND ST PAULS WORTH VISIBLY LIFT THE UPPER EYE AREA RESULTING IN A BRIGHTER, MORE YOUTHFUL LOOK.
HOW TO USE
Apply Xceptional Flawless Cream twice daily to clean skin to face, neck and décolleté. For best results apply after using Flawless Pads and the Anti-Wrinkle Brightening C-Erum.
Apply a thin layer of Truly-Transforming Brightening Eye Cream twice daily, as the final step of your skincare regimen. Gently tap into the eye area and the upper-lid.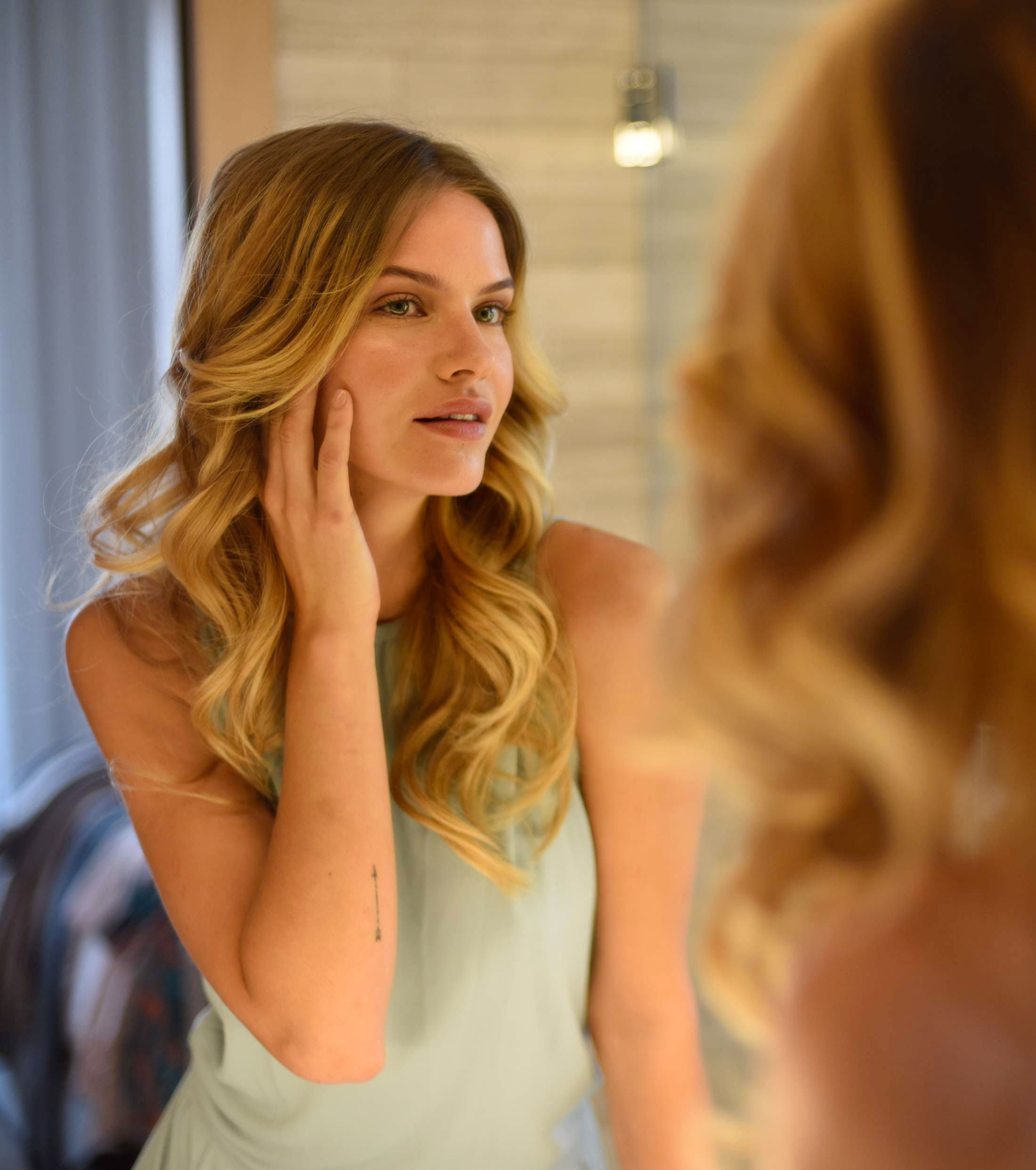 For a limited time only!

Supercharged Xceptional Cream with efficacious levels of powerful ingredients to target all significant visible signs of aging, to deliver outstanding results. Infused with Raspberry stem cells and the Multi-Molecular HA complex to significantly improve the skins moisturizing capability and retain hyaluronic content to ensure flexibility, firmness and increased elasticity. Wild Tobacco stem cells and Coffea Cell Extract measurably reduce wrinkles, act as a potent antioxidant and improve cellular vitality. L-Carnitine to fight free-radicals, advanced glycation and stimulate the collagen synthesis. Tri-Peptides to rapidly reduce the appearance of fine lines and wrinkles, reverse visible signs of photo-aging, tighten and refine the skin texture while improving firmness and elasticity to lift and redefine the facial contours along the cheeks and jawline. Shrubby Everlasting Plant and Paracress Extract to regain firmness, tone and reinforce the architecture of the dermis to fight wrinkles and sagging. The contours of the face are strengthened and sculpted for a V-Shape effect. Vitamin E, Shea Butter, and Almond Oil as a perfect addition to smooth, sooth and deeply nourish and regenerate the skin. For a youthful, firm and lifted appearance.


Truly Eye-Opening Multi-Tasker for Incredible Results. Extraordinarily hydrating, instantly unwrinkles, plumps and smooths due to the Multi-Molecular HA Complex and Raspberry Stem Cells for multi-depth hydration, 24h moisturization, it improves the production of ceramides and reinforces the skin barrier and elasticity. Energizing Caffeine detoxifies, thus reducing water retention and puffiness.Silk Tree Bark Extract and St. Pauls Worth visibly lift the upper eye-lid. In combination with Ash Bark Extract, Vitamin PP, Coffea Cell Extract as well as Tripeptide-5, Biopolymers, calming Bisabolol and Shea Butter to brighten, tighten and reduce fine lines and crow's feet. It improves micro-circulation and reinforces the capillary structure to minimize under eyebags and dark circles to reveal a refreshed lifted smooth youthful eye area.

There are no reviews for this product.