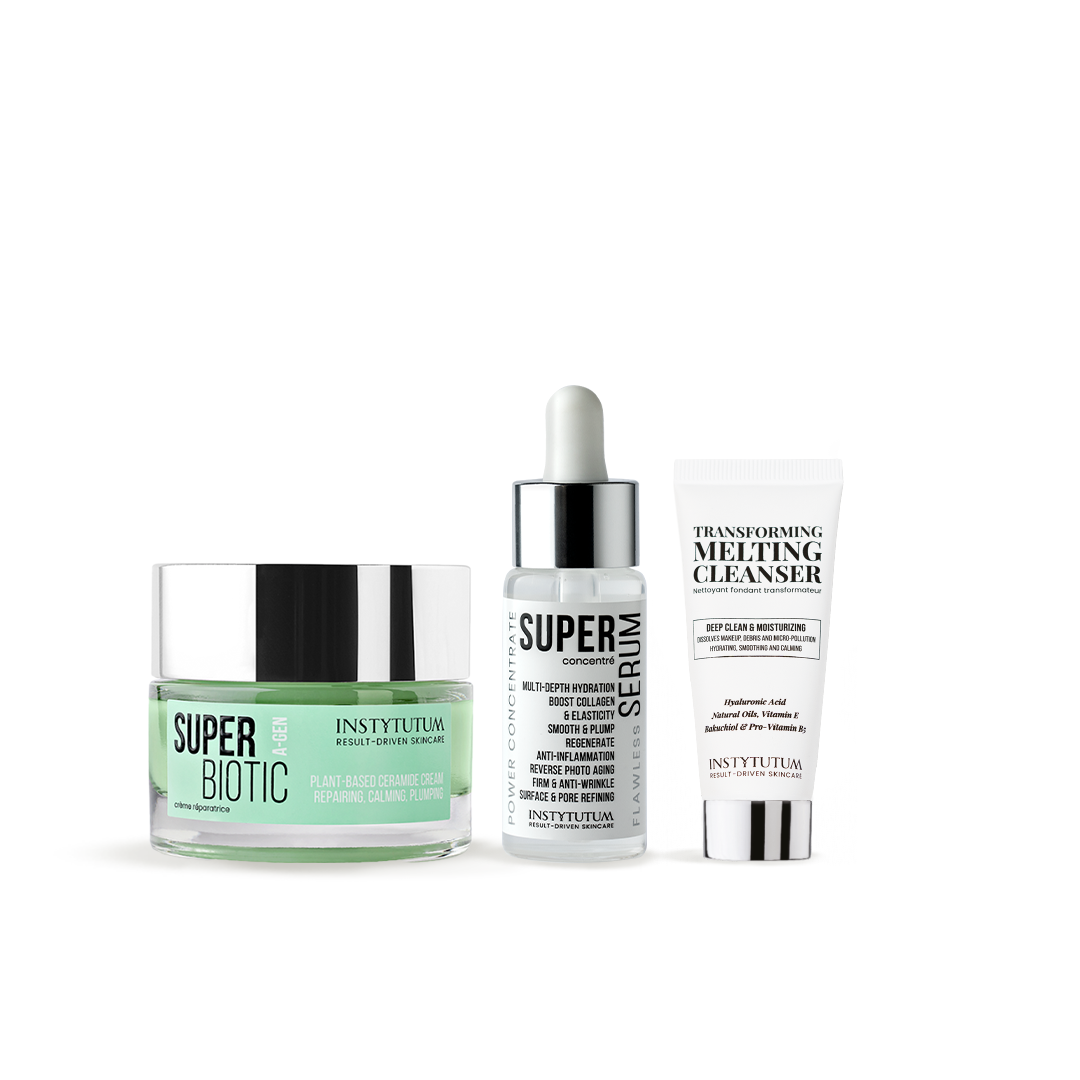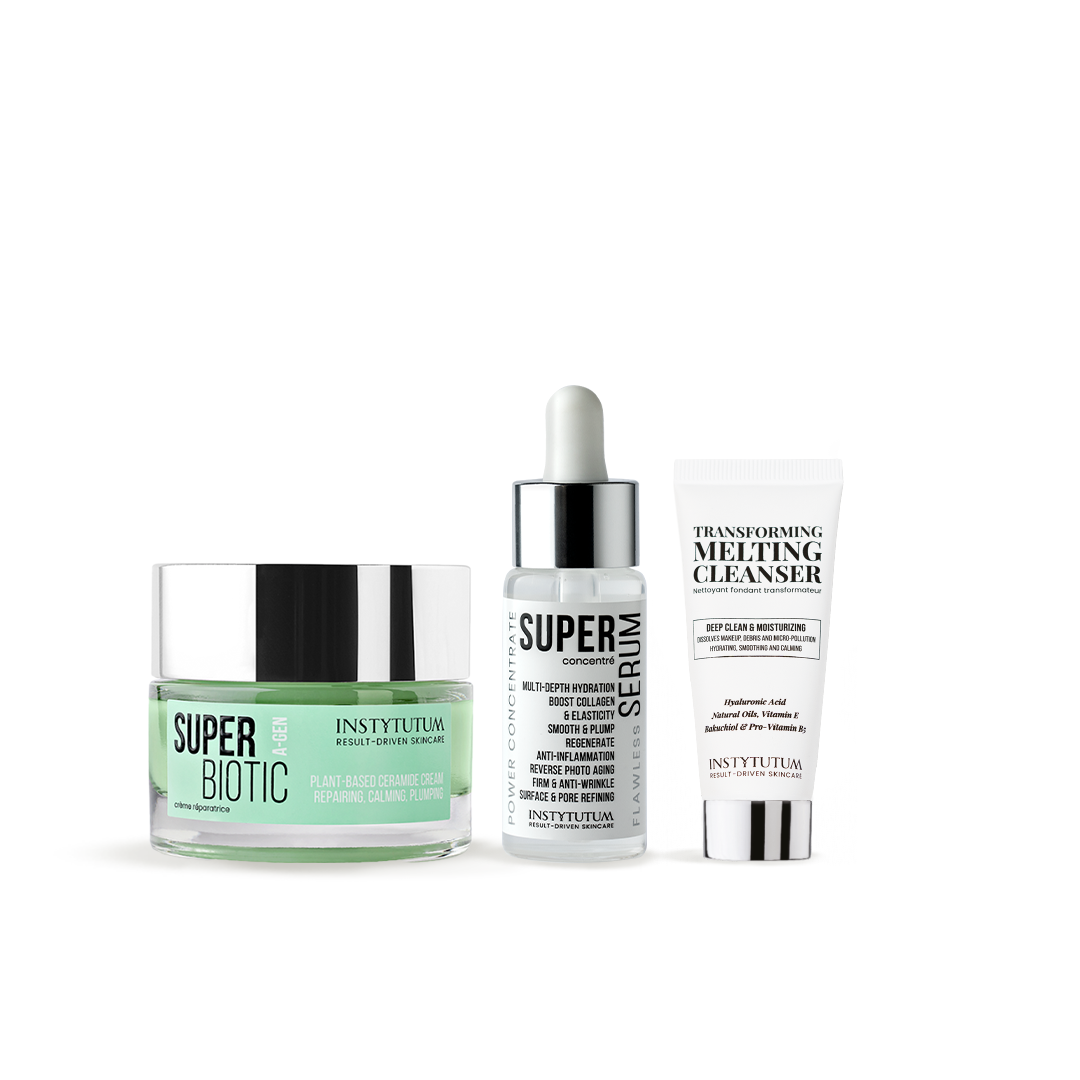 Post-summer rejuvenation
FALL

SKIN DETOX SET
WHY YOU WILL LOVE THIS
Prepare your skin for the upcoming autumn season. Over the course of three summer months, exposure to ultraviolet rays, free radicals, and fluctuations in temperature has disrupted the skin's natural barrier, resulting in dehydration and a lackluster appearance. Consequently, the skin is now in need of a detoxification. This set comprises three potent products designed to rejuvenate and restore damaged skin:
The Superbiotic Ceramide Plant-based Cream provides a robust antioxidant effect, contributing to the restoration of your skin's natural balance while reducing dryness and redness.
The Super Serum offers intensive nourishment and revitalization, effectively addressing signs of aging and enhancing skin elasticity.
The Transforming Melting Cleanser (deluxe-size) effectively dissolves and removes makeup, impurities, pore-clogging debris, and micro-pollution without compromising the skin's protective barrier.

Collectively, these products deliver an authentic "skin detox," helping to mitigate the effects of damage. They deeply nourish, hydrate, and shield the skin, ensuring its health and vitality throughout the entire fall season.
HOW TO USE
The Superbiotic Ceramide Plant-based Cream. Smooth over clean, dry face, neck, and décolleté. Apply morning and evening.​
The Super Serum. After cleansing apply a few drops to the face, undereye, neck, and décolleté.
The Transforming Melting Cleanser. Apply on dry skin, massage in, and leave on for a few minutes. Next, with moist fingertips massage into the skin vigorously in circular motions until a milky emulsion forms. Finally, rinse off thoroughly with lukewarm water. For even better results use it with Micro Peeling Cloth or cosmetic sponge.
POST-SUMMER REJUVENATION

The Superbiotic Ceramide Plant-based Cream. This ULTRA-REPAIRING, PLUMPING PLANT-BASED CERAMIDE CREAM strengthens the skin barrier and balances the microbiome, defending against the effects of everyday stressors. A lightweight and fast-absorbing texture helps to retain long-lasting moisture, forming a protective layer to improve dryness, dullness, and discomfort.


The Super Serum. The Super Powerful Anti-Aging Concentrate contains high levels of different types of multi-molecular weight Hyaluronic Acid, providing 24-hour multi-layer hydration to create a three-dimensional plumping moisturizing network. Combined with Peptides, Tripeptide-5, Collagen, Provitamin B5, and Polysaccharides, the complex fights against skin sagging, increases tonicity and firmness plus reduces lines and wrinkle depth. It stimulates collagen production and boosts the development of collagen fibers as well as improves elasticity. Smoothing and restructuring the surface of the skin while refining the pores. Reversing visible signs of photo-aging, providing Anti-inflammatory, regenerating, and calming benefits.


The Transforming Melting Cleanser. This transforming, rich balm melts into a light weight oil. Upon contact with water, it turns into a silky emulsion and instantly dissolves and removes makeup, impurities, pore-clogging debris and micro-pollution. Without overdrying and uncomfortable tightness, skin is thoroughly cleansed, soft and radiant-looking. With the renewal benefits of Bakuchiol (Botanical Retinol alternative) to refine skin texture, Hyaluronic Acid to improve moisture and elasticity, Vitamin E, Provitamin B5 and Allantoin to calm, soothe and strengthen barrier function.

There are no reviews for this product.