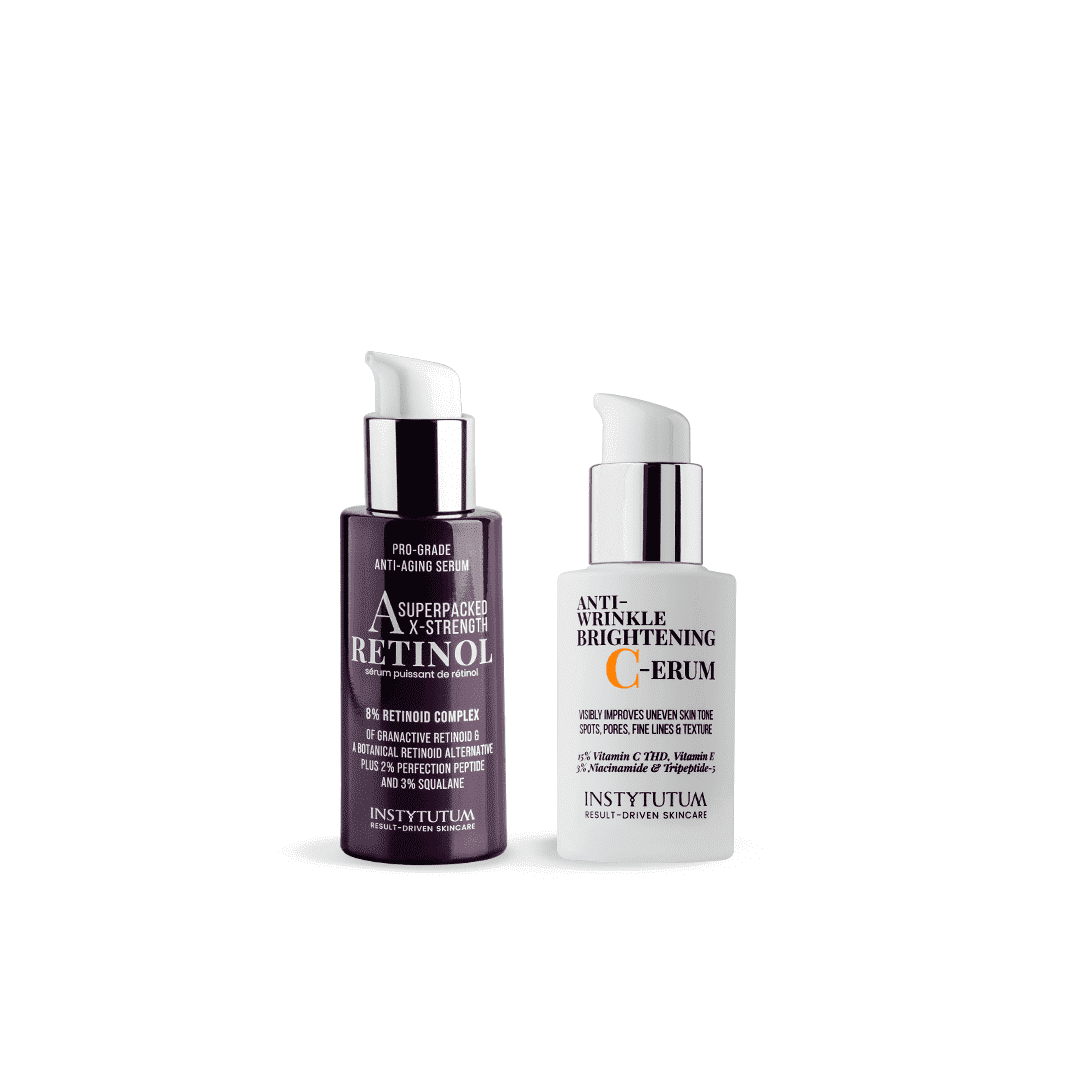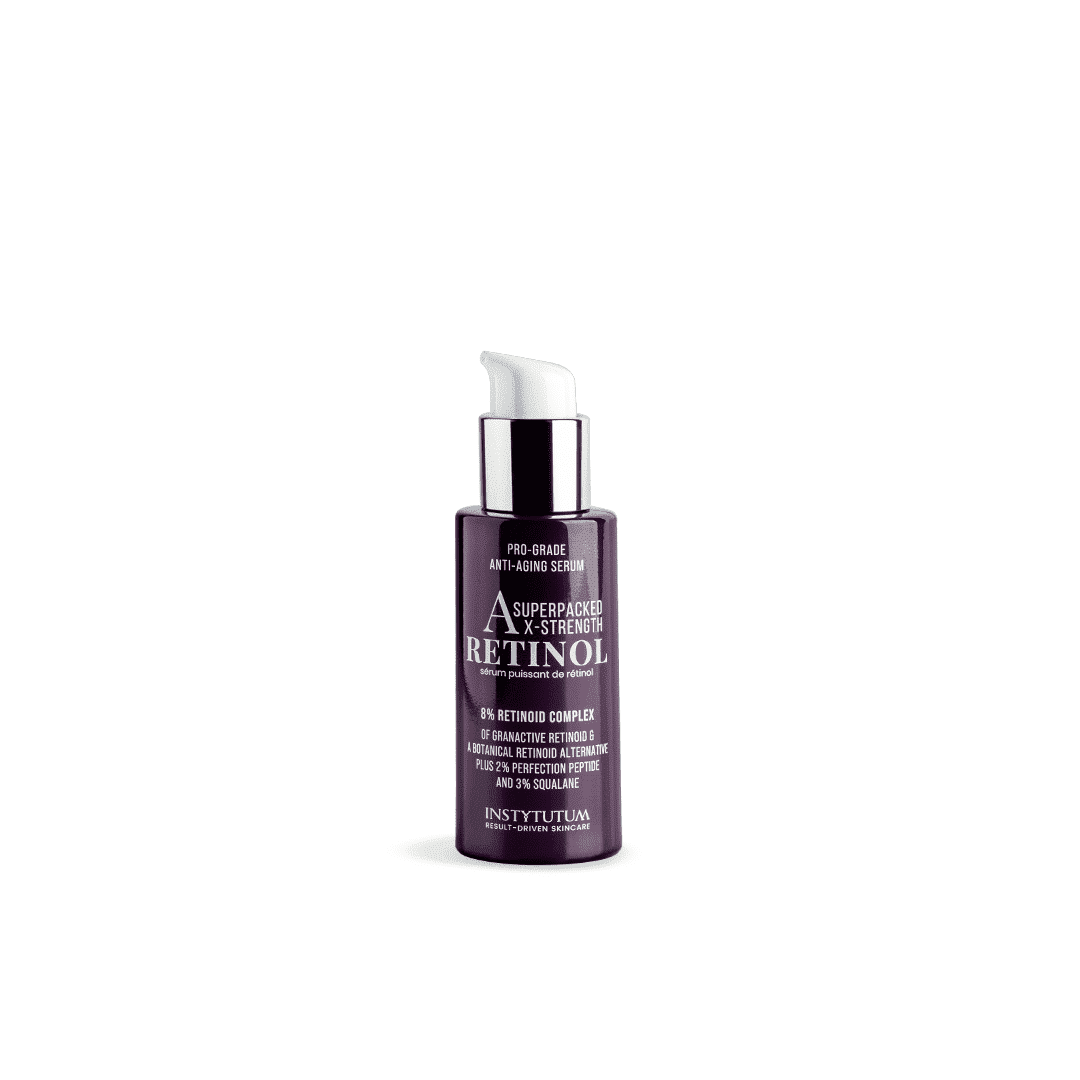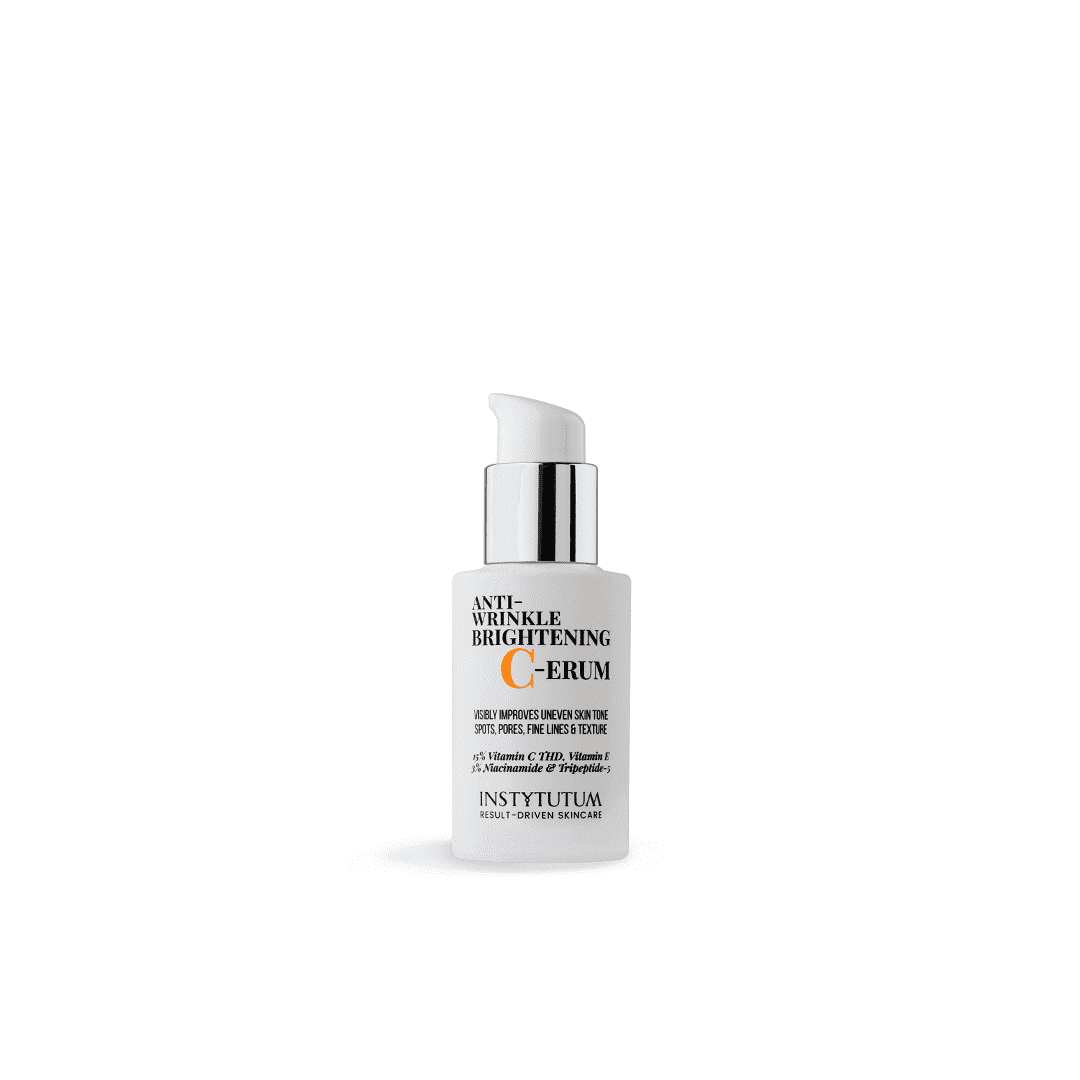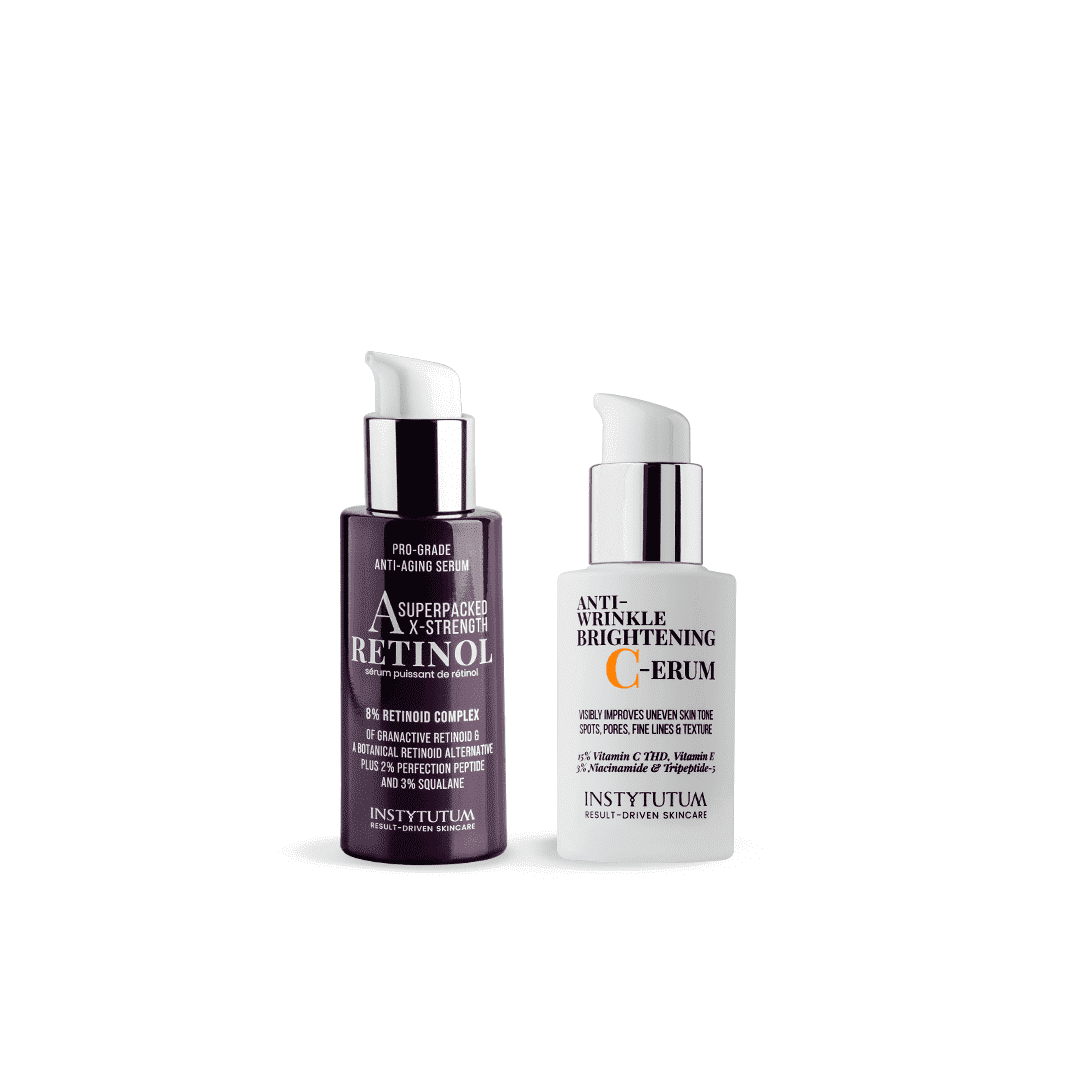 Brightening Power & Wrinkle Eraser
Day&Night

Set
WHY YOU WILL LOVE THIS

These must-haves are not only for the summer, but for all seasons. We have two absolute bestsellers, two powerful serums that deliver a noticeable transformation to your skin — one for the morning and one for the evening. The Anti-Wrinkle Brightening C-Erum (morning) is a cutting-edge serum infused with the power of Vitamin C. It effectively brightens pigmentation, shields the skin from harmful free radicals, and deeply nourishes and moisturizes.

For the evening skincare routine, we present the X-strength Retinol Serum. This remarkable serum, enriched with retinol, actively stimulates cell renewal, diminishes wrinkles and inflammation. It grants your skin a youthful and luminous glow, refines skin texture, and promotes collagen production.
HOW TO USE
Anti-Wrinkle Brightening C-Erum. Apply morning and evening to the face, undereye, neck, and décolleté.
X-strength Retinol Serum New to Retinol? Gradually work your way up to every other night, then to daily evening use. For advanced Retinol users: use every night or rotate with our RetinOil. Finish with Hydrafusion or Flawless Cream.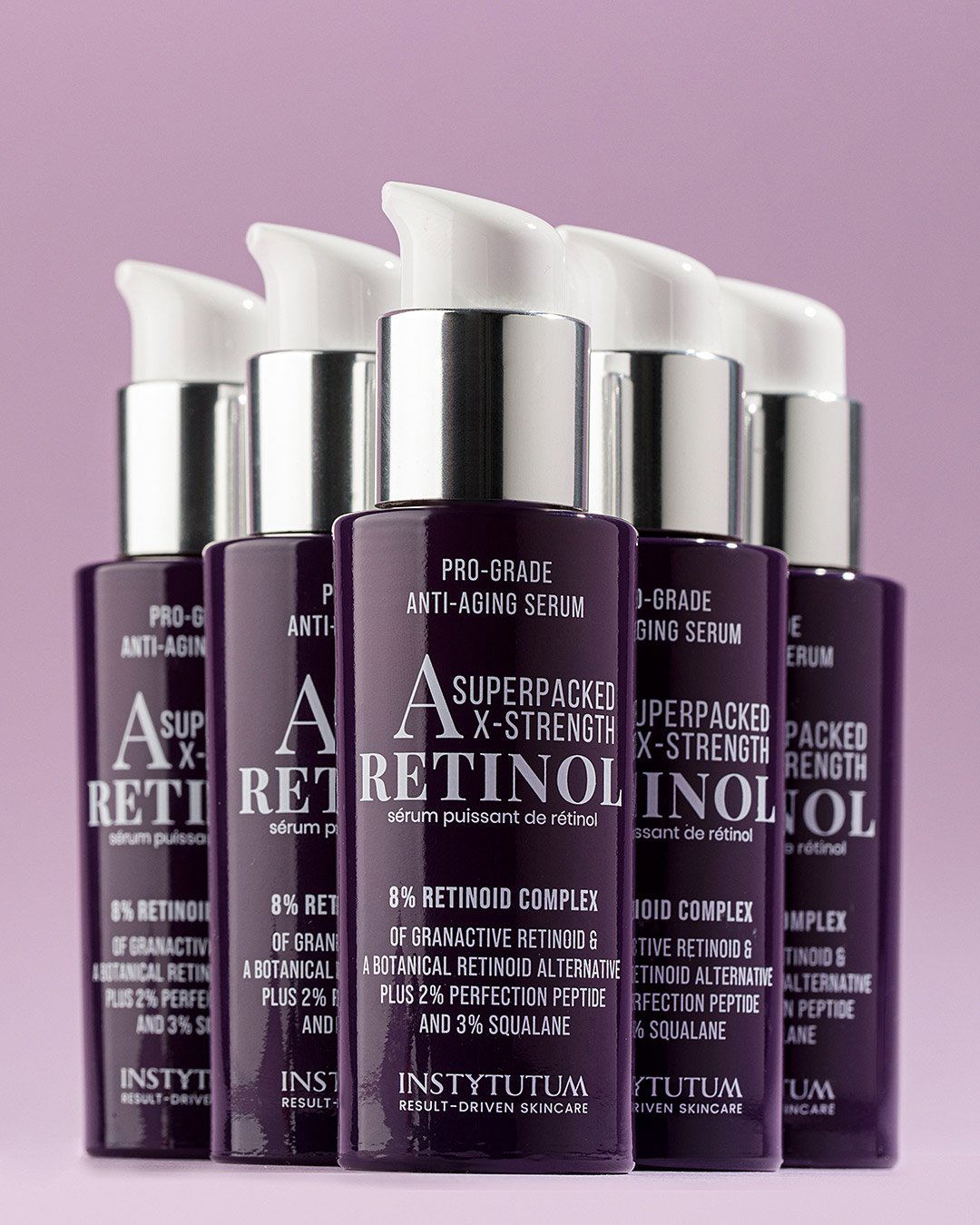 Day&Night Set

Anti-Wrinkle Brightening C-Erum Formulated with 15% Vitamin C THD an ultrastable oil-soluble significantly more powerful form of Vitamin C plus 3% Niacinamide, stimulates collagen production to reduce wrinkles and skin sagging. Effectively brightens the appearance of the skin by reducing melanin production to diminish the look of dark spots and discoloration. It repairs the effects of UV exposure and demonstrates anti-inflammatory effects in acne and visibly improves enlarged pores, dullness and texture. Infused with a multi-molecular HA complex to build up a formation of a 3D network and targets different layers of the skin for multidepth hydration and plumping. Squalane with its high affinity to the skin creates a hydrolipidic film that hydrates, softens, prevents moisture loss while restoring suppleness and flexibility. Bark Extract and Oleanolic Acid reduce excess sebum, reduce the diameter of the pores and skin shine, resulting in a refined, smooth surface. The Tripeptide-5 gives this formula extra power by boosting collagen production to visibly reduce fine lines and wrinkles, improve firmness, elasticity and tightens pores while reversing visible signs of photo-aging. Regenerating Vitamin E to fight premature aging.


X-strength Retinol Serum A high-dose extra strength Retinol Serum to truly transform the skin. Superpacked with an 8% Retinoid Complex that delivers a 5 % concentration of Granactive Retinoid, a solubilized system of Hydroxipinacolone Retinoate, a highly advanced stabilized Retinol ester of all-trans-retinoic acid. It ensures a better active delivery and fights multiple signs of aging with low irritation.

And a 3% blue-green Algae, a natural retinoid-like micro-algae extract, plus 2% rejuvenating perfection Peptide P3 that reactivate the natural peeling (desquamation) process of the skin. Smoothing the micro-relief of the skin and significantly reduce the depth and number of wrinkles, while intensely moisturizing and regenerating.

The performance of this serum intensifies with 3% plant-derived Squalane that locks in moisture, supporting the skin's natural moisture barrier, giving the skin a soft and smoother appearance, Multi Molecular Hyaluronic acid that can penetrate the dermis, to drench collagen and elastin fibers, instantly plumps and provides long-lasting multi-level rehydration. Vitamin E, Apricot, Grapeseed Oil, Allantoin, and Provitamin B5 provide regenerating, antioxidant, soothing, repairing, and anti-inflammatory activity.

There are no reviews for this product.