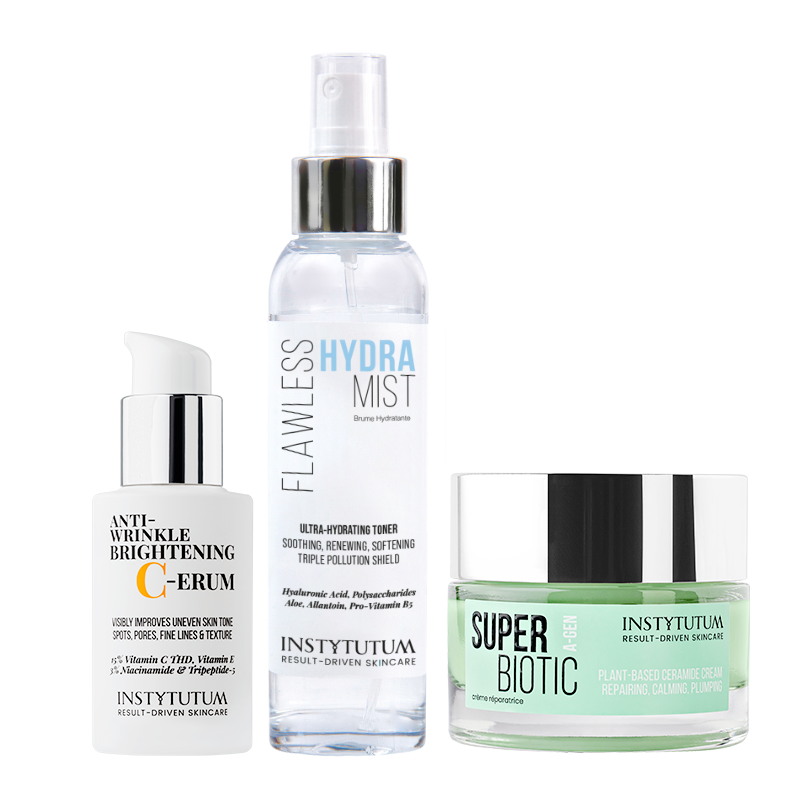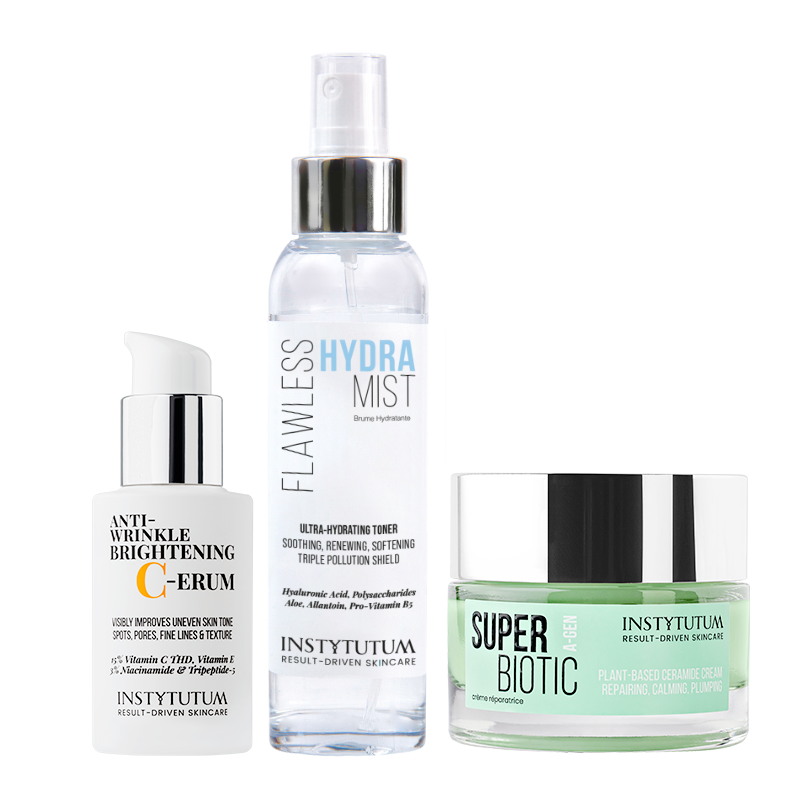 WHY YOU WILL LOVE THIS
Flawless Hydra Mist The cloudlike Flawless Hydra Mist instantly absorbs and quenches dull and dry skin with ultimate hydration, relieves dryness and provides a luminous, dewy, youthful complexion. Perfect for travel and use over makeup several times during the day.
Anti-Wrinkle Brightening C-Erum A highly potent, serum jam packed with 15% Vitamin C (THD), infused with multiple exceptionally powerful ingredients for real results. Multi-beneficial to improve all major skin concerns at once. Instantly brightening and a dewy skin smoothing glow.
Superbiotic Plant-Based Ceramide Cream This ultra-repairing, plumping plant-based ceramide cream strengthens the skin barrier and balances the microbiome, defending against the effects of everyday stressors.
HOW TO USE
Flawless Hydra Mist For instant rehydration and a supple, dewy finish hold the bottle 8-10 inches away from the face and spray the fine mist two to three times, with the eyes closed. To maintain hydration use several times throughout the day, especially on airplanes. Use pre-moisturizer as a toner to boost -hydration, or post makeup application for a smooth, flawless look.
Anti-Wrinkle Brightening C-Erum Apply morning and evening to the face, undereye, neck, and décolleté. For best results, follow with the Xceptional Flawless Cream or the C-Illuminating 3D Moisturizer.​
Superbiotic Plant-Based Ceramide Cream Smooth over clean, dry face, neck, and décolleté. Apply morning and evening.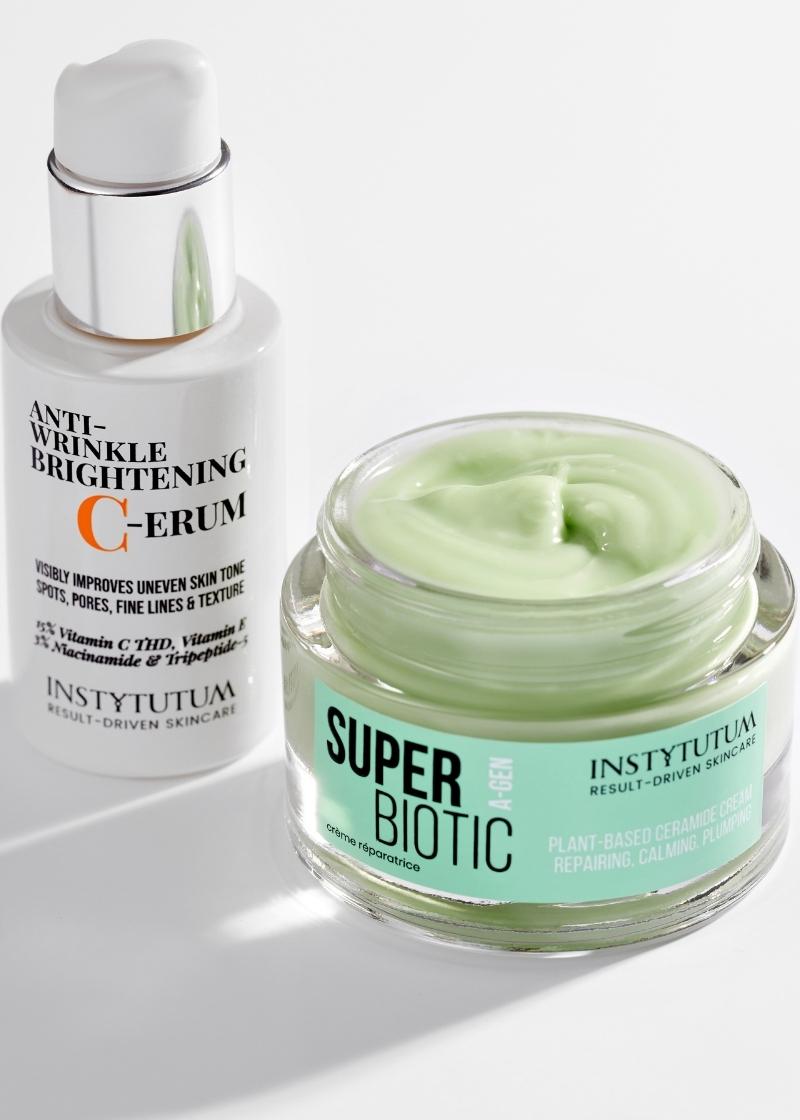 Removes all the sun damage, leaves only the glow

Flawless Hydra Mist This micro-fine mist is formulated with low molecular weight Hyaluronic Acid to enable better penetration. It provides an instant infusion of long-lasting, intense hydration, replenishing moisture levels, creating a smoother skin texture and visibly reduces lines and wrinkles.


Anti-Wrinkle Brightening C-Erum Formulated with 15% Vitamin C THD an ultrastable oil-soluble significantly more powerful form of Vitamin C plus 3% Niacinamide, stimulates collagen production to reduce wrinkles and skin sagging. Effectively brightens the appearance of the skin by reducing melanin production to diminish the look of dark spots and discoloration. It repairs the effects of UV exposure and demonstrates anti-inflammatory effects in acne and visibly improves enlarged pores, dullness and texture.


Superbiotic Plant-Based Ceramide Cream Uniquely formulated with biocompatible ceramides, omega fatty acids, squalane, and polyglutamic acid that help nourish, plump, hydrate, and smooth your skin. 3% pre- and pro-biotic power complex rebalances, protects from glycation, and provides natural healthy glow and suppleness. Brown algae promotes skin cell renewal, providing a firming and anti-wrinkle effect while chlorella extract visibly reduces redness. together, the two algae extracts support collagen synthesis.

There are no reviews for this product.
FOR SKINSATIONAL RESULTS
USE TOGETHER WITH