2 steps to get rid of hyperpigmentation
Anti

Pigmentation Kit
WHY YOU WILL LOVE THIS
Triple-Action Resurfacing Peel A truly transforming triple-action exfoliating facial contains a 10% acid duo, papaya enzymes and loads of ultrafine micro-polishing beads for an in-office microdermabrasion treatment effect. Complexion perfection is guaranteed.
Anti-Wrinkle Brightening C-Erum A highly potent, serum jam-packed with 15% Vitamin C (THD), infused with multiple exceptionally powerful ingredients for real results. Multi-beneficial to improve all major skin concerns at once. Instantly brightening and a dewy skin-smoothing glow.
HOW TO USE
Triple-Action Resurfacing Peel Apply an even layer to the face, neck, and décolleté, avoiding the eye area, massaging in circular motions for 1-3 minutes. Leave on for 5-8 minutes for best results. Rinse thoroughly with lukewarm water. For sensitive skin, use it as a mask without polishing, leave on for 3-5 minutes. For best results use this peel 1-2 times a week, followed by Serum.
Anti-Wrinkle Brightening C-Erum Apply morning and evening to the face, undereye, neck, and décolleté. For best results, follow with the Xceptional Flawless Cream or the C-Illuminating 3D Moisturizer. ​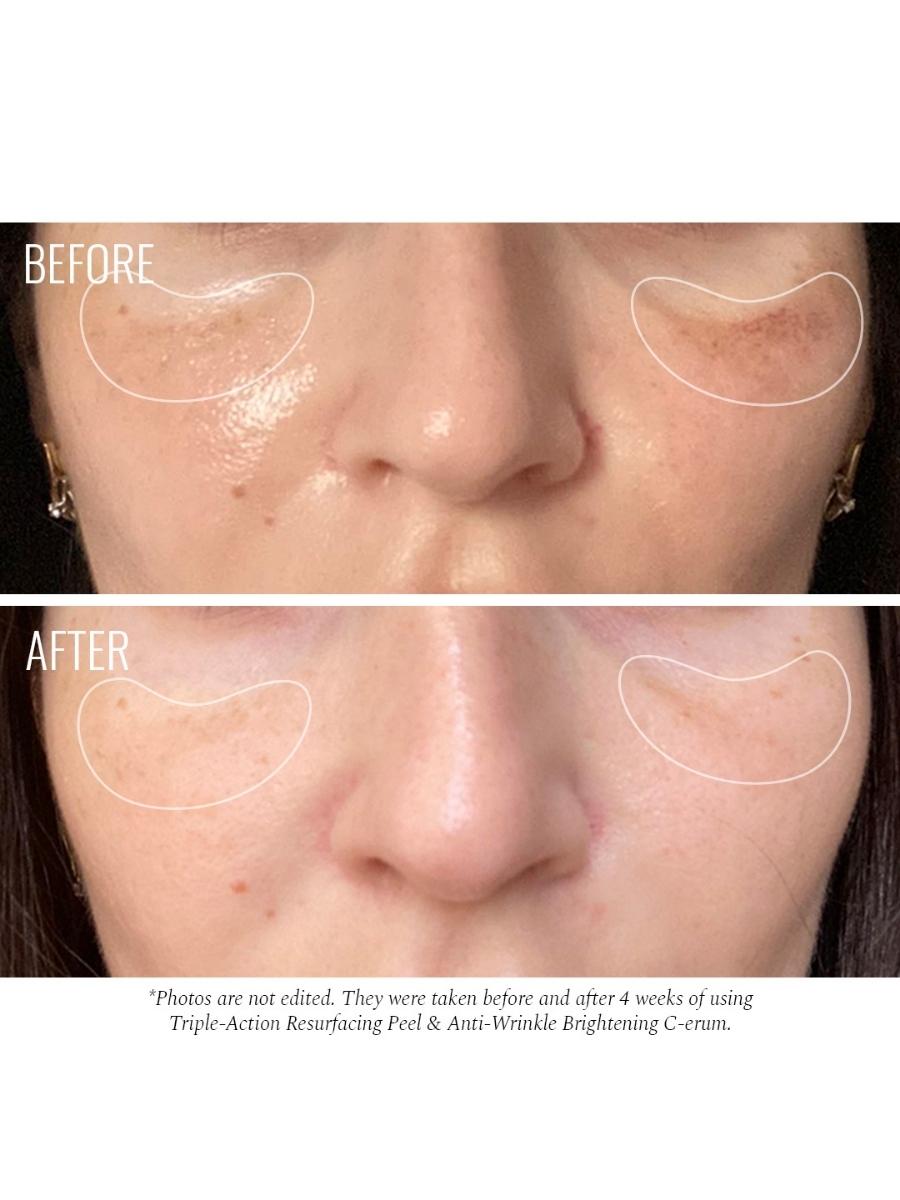 2 steps to get rid of hyperpigmentation

Triple-Action Resurfacing Peel A triple-action exfoliating facial to immediately transform the skin texture and tone. Contains a 10% Acid duo of Glycolic and Salicylic Acid, Papaya Enzyme and micro-polishing beads to resurface skin cells. Renewing Retinol, Hyaluronic Acid, Pro-Vitamin B5 and Vitamin E moisturize, soothe and regenerate the skin. Visibly reduces fine lines, wrinkles and pores, whilst improving the appearance of discoloration and dark spots for a brighter, smoother and renewed complexion.


Anti Wrinkle Brightening C-erum Formulated with 15% Vitamin C THD an ultrastable oil-soluble significantly more powerful form of Vitamin C plus 3% Niacinamide, stimulates collagen production to reduce wrinkles and skin sagging. Effectively brightens the appearance of the skin by reducing melanin production to diminish the look of dark spots and discoloration. It repairs the effects of UV exposure and demonstrates anti-inflammatory effects in acne and visibly improves enlarged pores, dullness and texture.

Infused with a multi-molecular HA complex to build up a formation of a 3D network and targets different layers of the skin for multidepth hydration and plumping. Squalane with its high affinity to the skin creates a hydrolipidic film that hydrates, softens, prevents moisture loss while restoring suppleness and flexibility. Bark Extract and Oleanolic Acid reduce excess sebum, reduce the diameter of the pores and skin shine, resulting in a refined, smooth surface. The Tripeptide-5 gives this formula extra power by boosting collagen production to visibly reduce fine lines and wrinkles, improve firmness, elasticity and tightens pores while reversing visible signs of photo-aging. Regenerating Vitamin E to fight premature aging.

There are no reviews for this product.
FOR SKINSATIONAL RESULTS
USE TOGETHER WITH