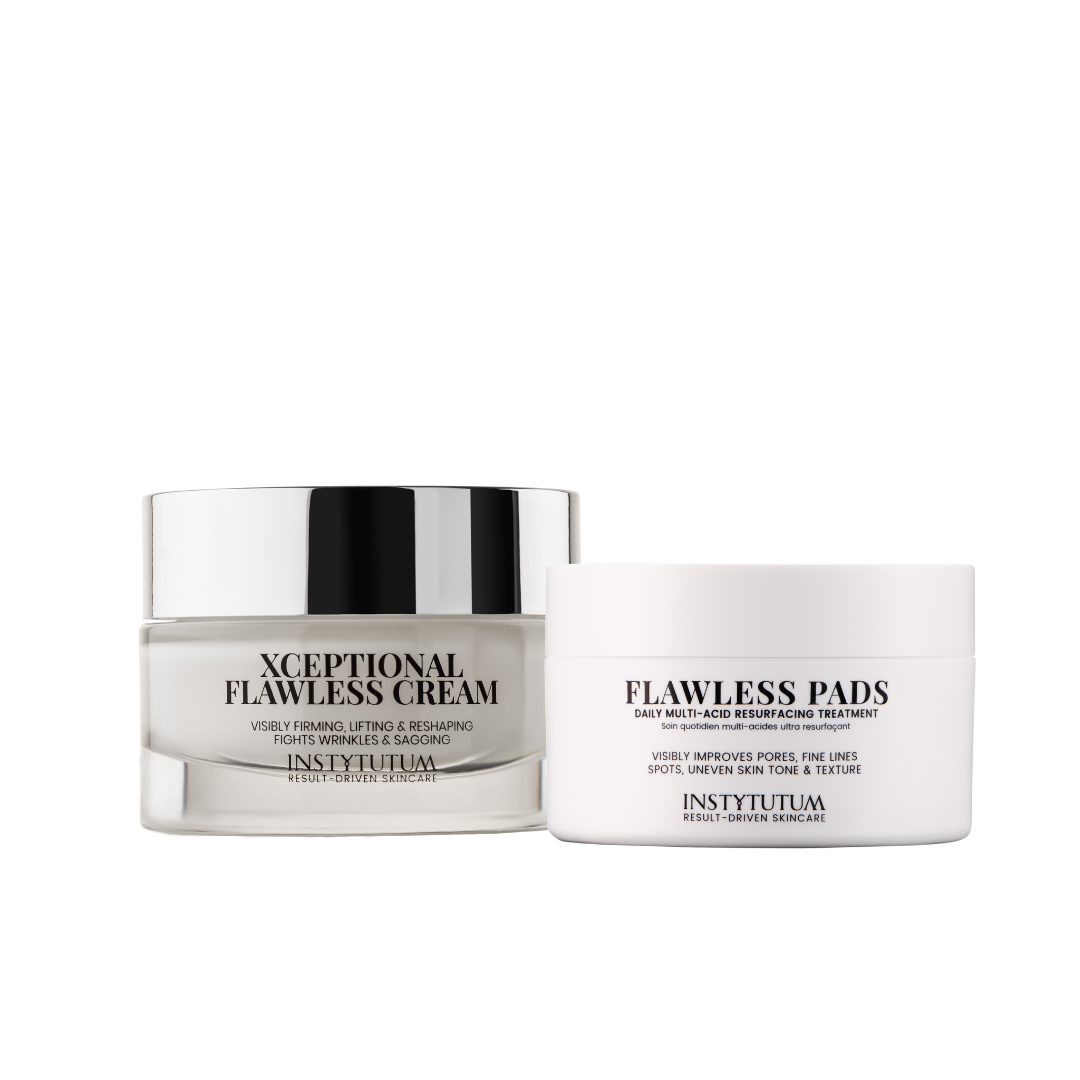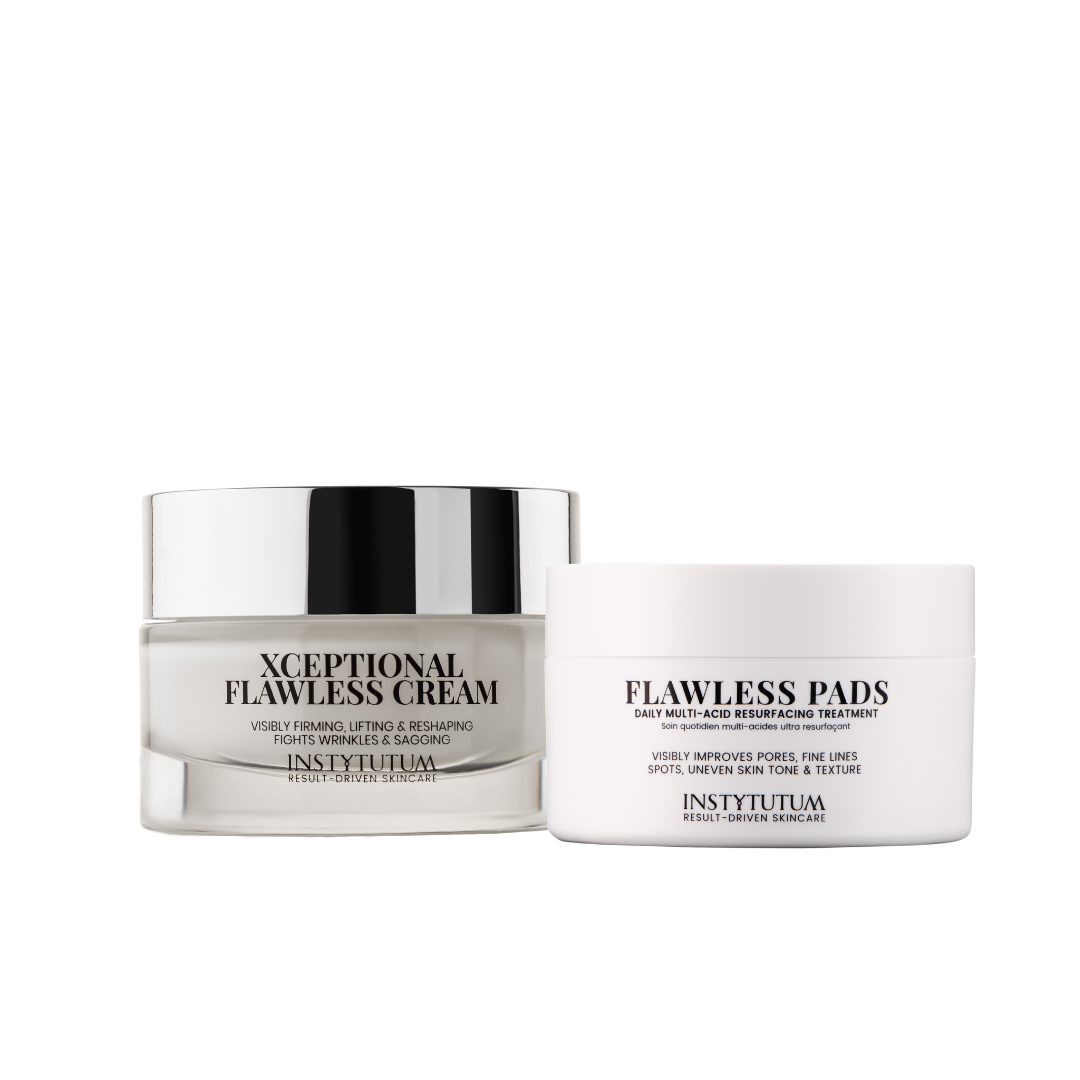 WHY YOU WILL LOVE THIS
Flawless Pads One step miracle pads that deliver results. A must-have to resurface and retexturize the skin surface. The benefits of the powerful non-irritating acid cocktail are numerous: luminosity is restored, pore size reduced, spots, hyperpigmentation, and sun damage corrected, and fine lines reduced while rebuilding collagen to improve elasticity.
Xceptional Flawless Cream This ultra-powerful dream cream melts luxuriously into the skin for a smooth, sensuous application and redefines the facial contours along the cheeks and jawline, for a V-shape effect. Supercharged with efficacious levels of groundbreaking ingredients to provide multiple anti-aging benefits. Infusing the skin with a mega dose of moisture to increase plumpness, flexibility, and elasticity.
HOW TO USE
Flawless Pads Wipe over clean, dry skin on face and neck, avoid the eye area. Leave on. Recommend starting 3 times a week and building up to twice daily.​
Xceptional Flawless Cream Apply twice daily to clean skin to face, neck and décolleté. For best results apply after using Flawless Pads and the Anti-Wrinkle Brightening C-Erum.
AGE DEFYING KIT

Flawless Pads These powerful easy-to-use pre-soaked pads are formulated with glycolic, lactic, citric, hyaluronic and salicylic acids, plus Pro-Vitamin B5 and Niacinamide that reduce pore size, fine lines, and wrinkles and improve skin tone, texture and luminosity. Purslane Extract acts as a strong soother, itch reliever and antioxidant. They also promote collagen production and cell turnover, whilst improving hyperpigmentation and boosting moisture. Leaves skin smooth, firm and renewed in one quick step.


Xceptional Flawless Cream Supercharged with efficacious levels of powerful ingredients to target all significant visible signs of aging, to deliver outstanding results. Infused with Raspberry stem cells and the Multi-Molecular HA complex to significantly improve the skins moisturizing capability and retain hyaluronic content to ensure flexibility, firmness and increased elasticity. Wild Tobacco stem cells and Coffea Cell Extract measurably reduce wrinkles, act as a potent antioxidant and improve cellular vitality. L-Carnitine to fight free-radicals, advanced glycation and stimulate the collagen synthesis. Tri-Peptides to rapidly reduce the appearance of fine lines and wrinkles, reverse visible signs of photo-aging, tighten and refine the skin texture while improving firmness and elasticity to lift and redefine the facial contours along the cheeks and jawline. Shrubby Everlasting Plant and Paracress Extract to regain firmness, tone and reinforce the architecture of the dermis to fight wrinkles and sagging. The contours of the face are strengthened and sculpted for a V-Shape effect. Vitamin E, Shea Butter, and Almond Oil as a perfect addition to smooth, sooth and deeply nourish and regenerate the skin. For a youthful, firm and lifted appearance.

There are no reviews for this product.
FOR SKINSATIONAL RESULTS
USE TOGETHER WITH